Here's an affiliate marketing case study, showing how to build an affiliate income with supplements: Building A $1,000 / Month Income In 7 Days.
Plus how my friend exceeded that income. Proof of income below.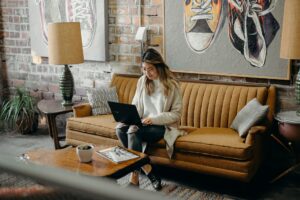 Meet Sarah. She's a fitness enthusiast who runs a popular blog that covers various topics related to health and fitness. She's building a loyal following and a good reputation in the industry, but she isn't making any money for her efforts.
One morning she is taking her supplements when it occurs to her that this would be something she could promote to her audience. She finds a supplier, applies to become their newest affiliate and is accepted.
Sarah writes a blog post telling the story of how she began taking these supplements, what they have done for her, and how she wouldn't be without them. She includes affiliate links in the post which direct readers to the supplement company's website.
Sarah shares the blog post on her social media channels and sends an email to her mailing list, letting them know about the supplements and the benefits of using them. She includes the affiliate links in all of her promotions.
Sarah's affiliate sales start to roll in and she continues to promote and earn commissions.
Now here's the best part: When a new customer places an order, they have the option of receiving the supplements on a monthly basis at a discount. If they take this option, then Sarah will receive not just a one-time commission, but additional commissions each month on the automatic shipments.
Encouraged by her success, Sarah continues to promote products from the same supplement company. She creates additional blog posts and social media promotions, each time including her affiliate links and exclusive discount codes.
By the end of the first week, Sarah's earned close to a $1,000 in commissions from the affiliate program. More importantly, many of the orders are set for monthly renewal. And as the next 3 weeks progress, she makes more sales with more automatic renewals.
That's almost $1,000 in commissions the first week, nearly $3,000 in commissions total for the month, and now she has monthly residual commissions of over $1,000 a month.
Of course, Sarah's 'overnight' success wasn't overnight at all. She'd already been building her blog and her audience for some time and realized it was silly not to start monetizing. If she had begun promoting sooner, when she first started blogging, no doubt she would have begun making money sooner, too.
Her knowledge of her niche and her customers, as well as and her ability to create valuable content that resonates with her followers created a great deal of trust with her readers. She also leveraged the power of social media and email marketing to promote the products and drive sales.
It's important to note that building a $1,000/month residual income through affiliate marketing in one week isn't typical. It requires a unique combination of industry knowledge, a loyal following, and effective marketing strategies.
If you already have a blog and an email list, then it might be possible. If not, perhaps it's time to start a blog and list so that you, too, can begin to reap the power of affiliate marketing.
You can see below the results achieved by one affiliate since December 2022.
Resources:
Affiliate shop where you can source >> discounted supplements << . 

IMPORTANT:

 many supplement companies add on a huge margin to pay commissions to their distributors. In this case, your clients will soon look for cheaper alternatives. The company I recommend does not do this. Their supplements are both discounted and high quality, so customer retention is high.
Apply >> here for a wholesale account << where you can qualify for an introducer bonus plus a residual income while your clients place their own orders, freeing you from admin. All you need to do is blog about the products.
>> Open a free account here << to start building an email list – comes with plenty of help and advice.
>> Training to start a blog << in the most efficient way possible. I made the mistake of trying to do-it-myself and wasted so much time and money to get to this stage.
Contact me if you need any help with the affiliate account – I already have over 130 paid customers where I earn a small amount on them every month, even if they don't order.
Proof of income using this method
The income generated below is not mine – it's the proof of income from my friend who introduced me to this company. (And he found his clients using videos and social media rather than a blog, so you can choose your own method.)