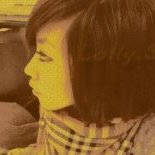 Today I am pleased to welcome guest author: Candy Rora, writing about the graphic design tool and photo editor, FotoJet.
"Candy is a freelance writer. She likes to laugh and enjoys photography. She loves unleashing her creativity by trying all types of free collage makers, graphic designers, photo editor, etc. Her greatest pleasure is to share her creative ideas to others and wish that could inspire others. Now she is a writer with PearlMountain Ltd."
"FotoJet is an online collage maker, graphic design tool and photo editor where you can turn your photos into amazing works of art in minutes! It's developed by PearlMountain Limited, a dedicated graphics software developer. PearlMountain Ltd has been based in China since 2006. From the very beginning, it has brought many powerful, easy to use photo editing tools to worldwide users."
Let's hear from Candy….
What Is Canva?
Canva is a web-based application that makes creating graphic designs easy.
What Is FotoJet?
FotoJet is also a web-based tool. Its graphic design feature is very similar to Canva. However, FotoJet puts more emphasis on making designs for casual use while Canva is more often used in business.
FotoJet also includes a robust photo editor and photo collage maker.
What Can You Do With FotoJet and Canva?
If you want to make fabulous graphic designs but don't have good technical skills in Photoshop, these apps are for you. They are also very useful when you need to retouch your own photos for best effect.
How To Use Canva
Login to your Canva account and click "more". You will find tons of professionally designed templates for Twitter posts, Pinterest, presentations, blogging graphic, book cover, YouTube channel art, card and ad for many types, etc. in different categories.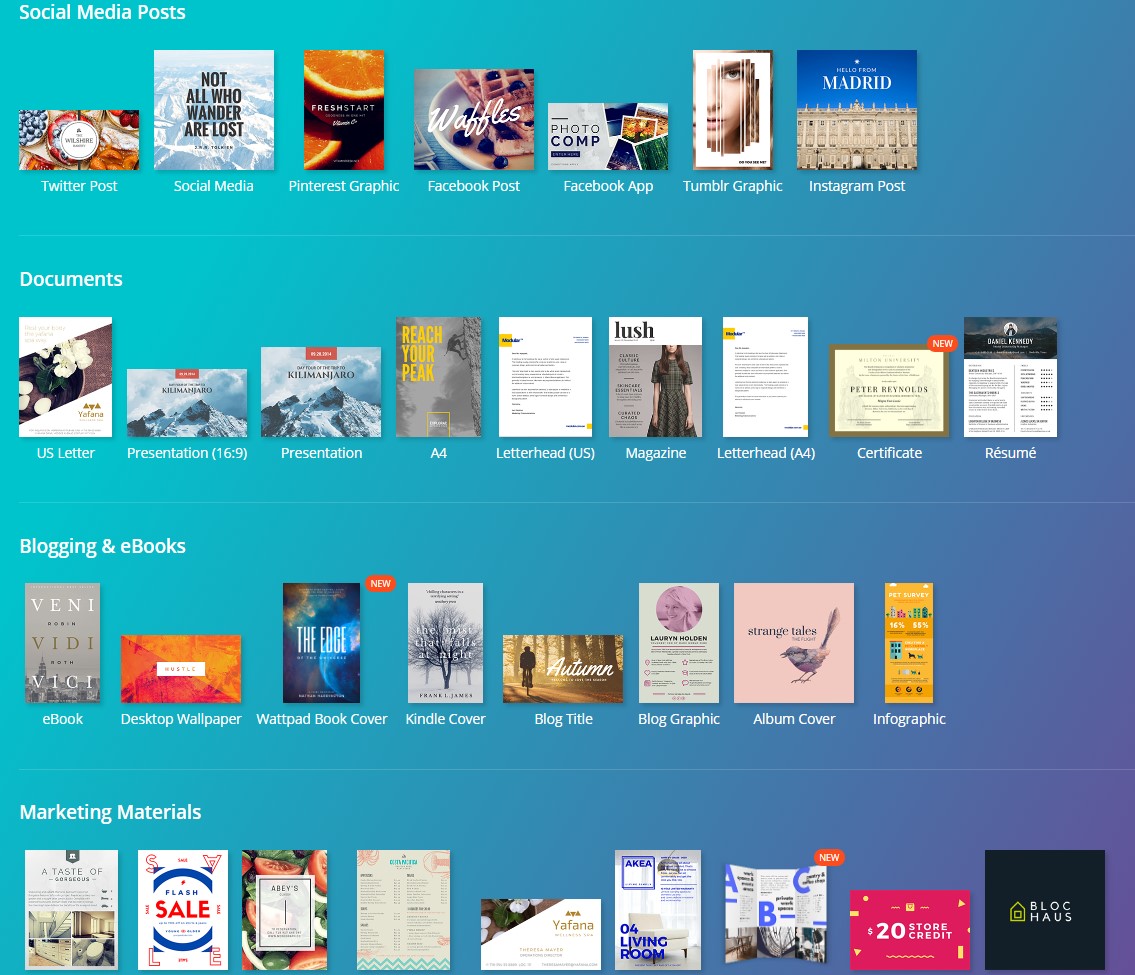 I'll show you how to make a YouTube channel art with this app. Choose a YouTube channel art. First, I'd love to add my own photos to the photo list.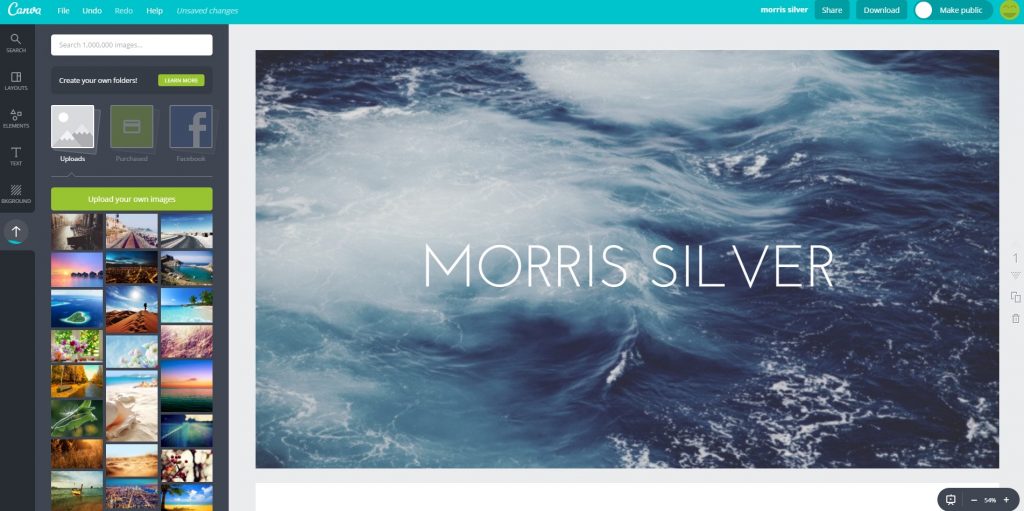 Next, I just replace the photo in the design. Then, I'll add some text to explain what I want to say and change it to the right position, font, style, color, etc.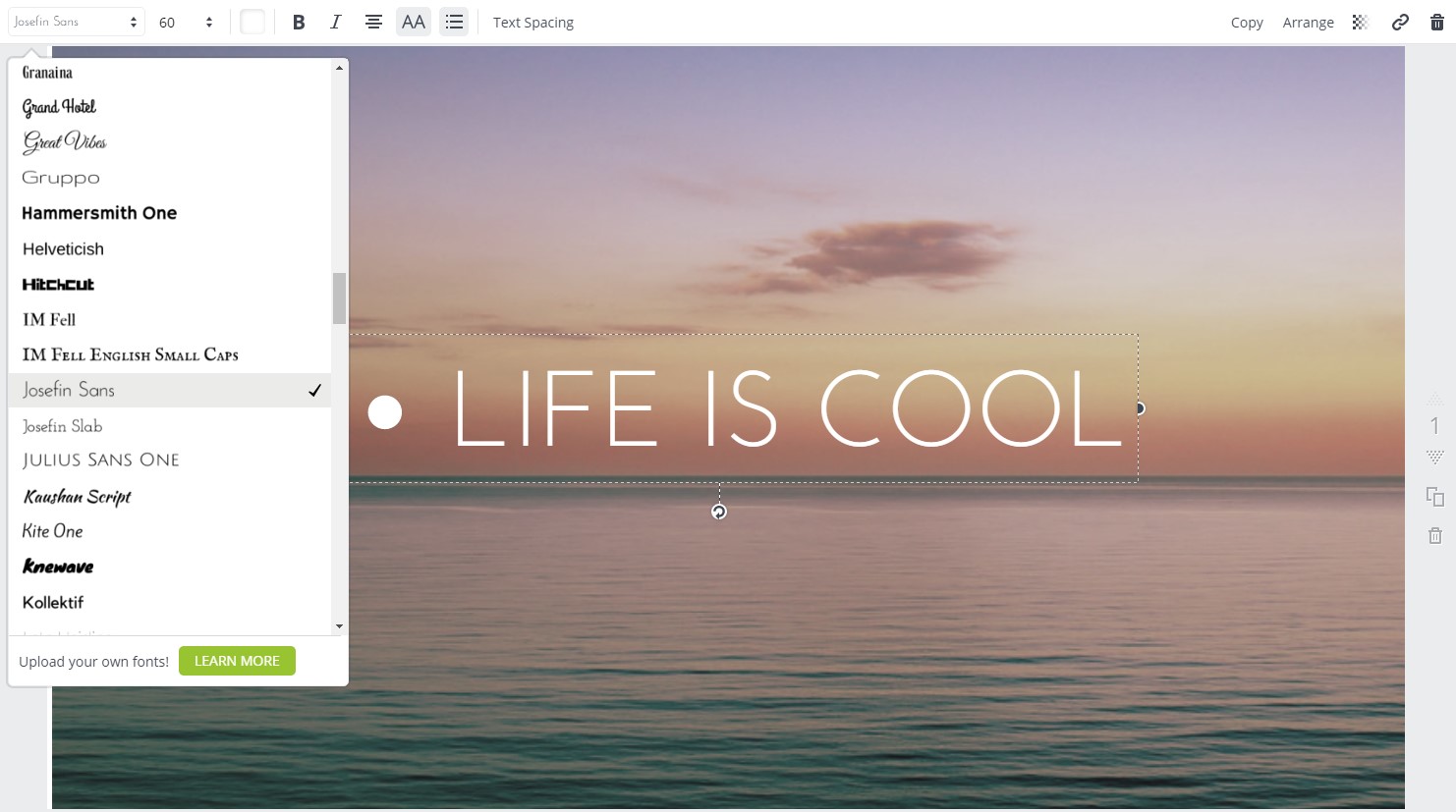 To make it more beautiful, I'd want to add some elements to the YouTube channel art. Click ELEMENTS, you can see several options displayed as free photos, grids, frames, shapes, lines, Illustrations, and more. Here I choose to add lines to embellish the design and adjust its transparency.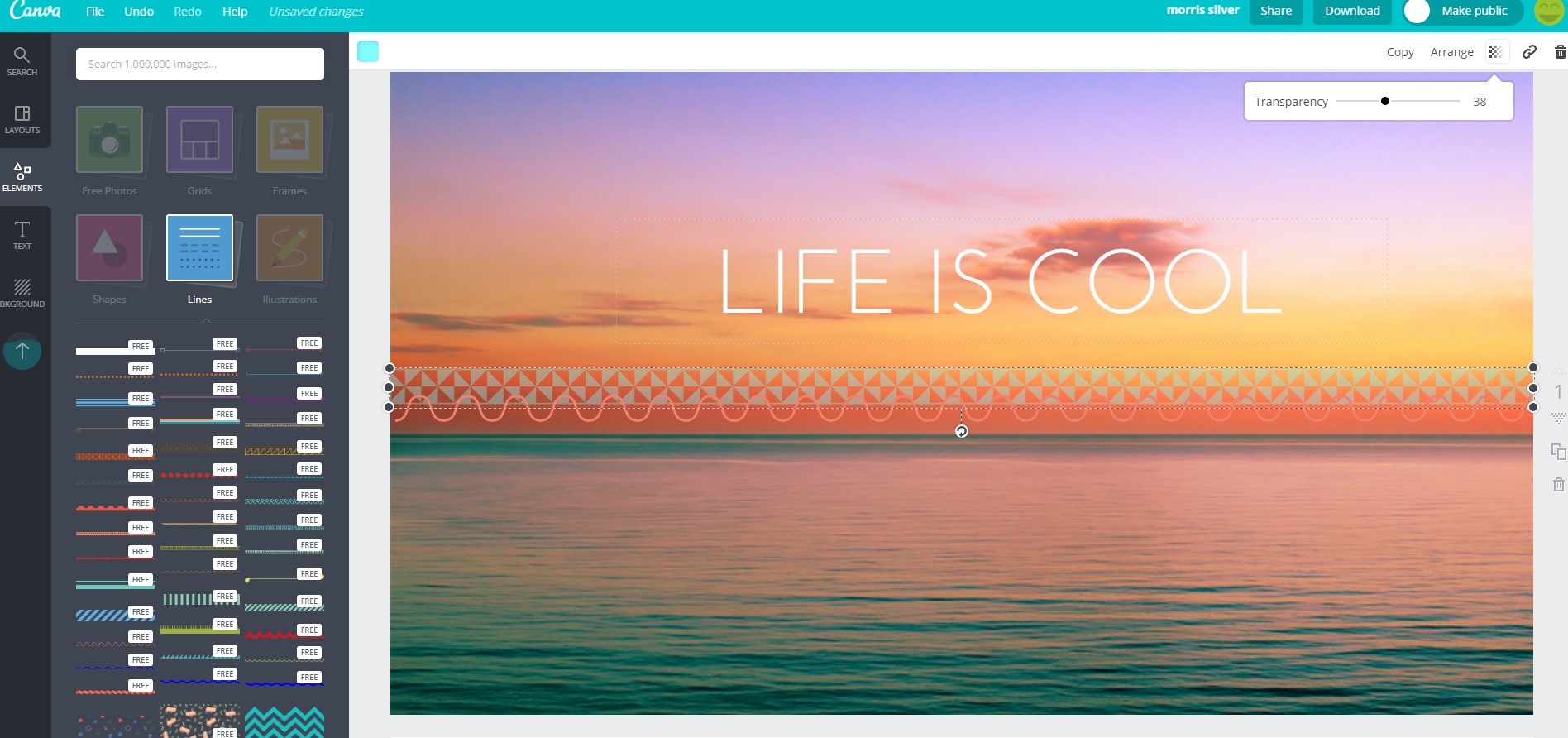 Once you think your design is great, click Download to save it. As it is shown, PNG is recommended by Canva.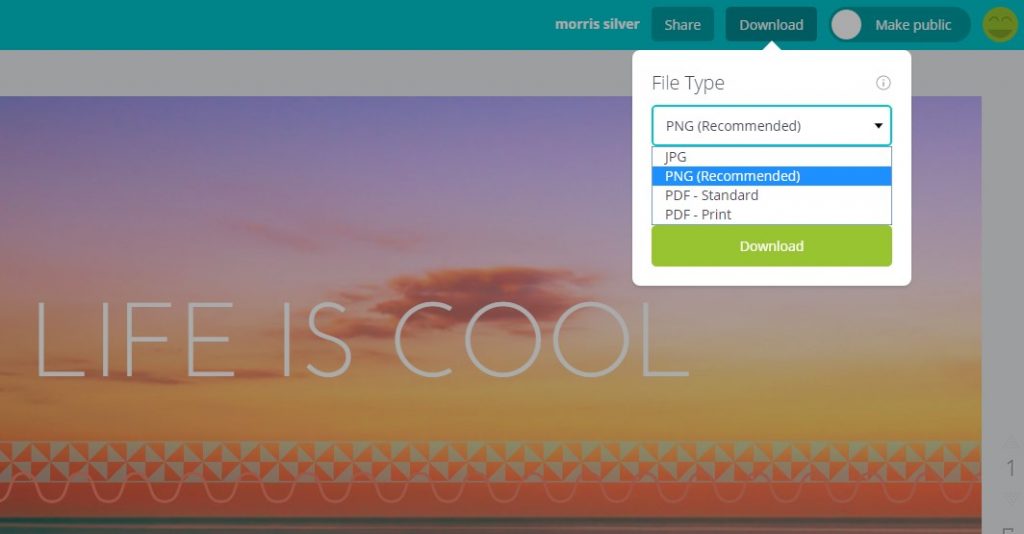 Then you can just upload it to your YouTube channel any time you want.
Price Of Canva
Canva offers a permanently free option, or – for more features – you can upgrade to Canva for Work for $9.95 per month when paid annually, or $12.95 per user / month. (At the time of writing, November 2016.)
Next, let's see how to use FotoJet.
How To Use FotoJet
Go to the homepage, where you will see three options:
Make a Collage
Create a Design
Edit a Photo
The first two options Make a Collage and Create a Design let you easily make your image designs for all types of collages, cards, Facebook covers, YouTube banners, email headers, posters, invitations, magazine covers, and other designs with the numerous preset templates. It's very easy to do.
Here I want to mention the "3D" collage and the "Fun Photo" templates in FotoJet which will make your photo standout. You will have fun using these templates. I don't want you miss the gorgeous template I love, so I hope you enjoy them also.
I think everyone will handle it completely even when new to FotoJet. So I'm going to talk more about its Photo Editor / Edit a Photo.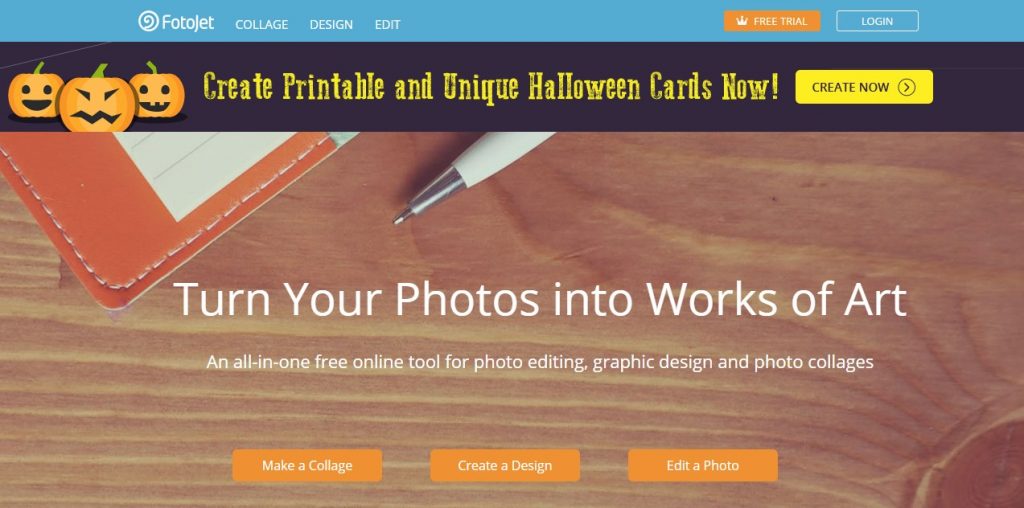 Click "Edit a Photo" to enter Edit mode. Login to your FotoJet account. You can edit your photo using features like: crop, resize, rotate, adjust exposure, change color, sharpen, dehaze, vignette, focus, color splash, selective filter, and so on.
Let's use radial focus to highlight the part you want in your picture.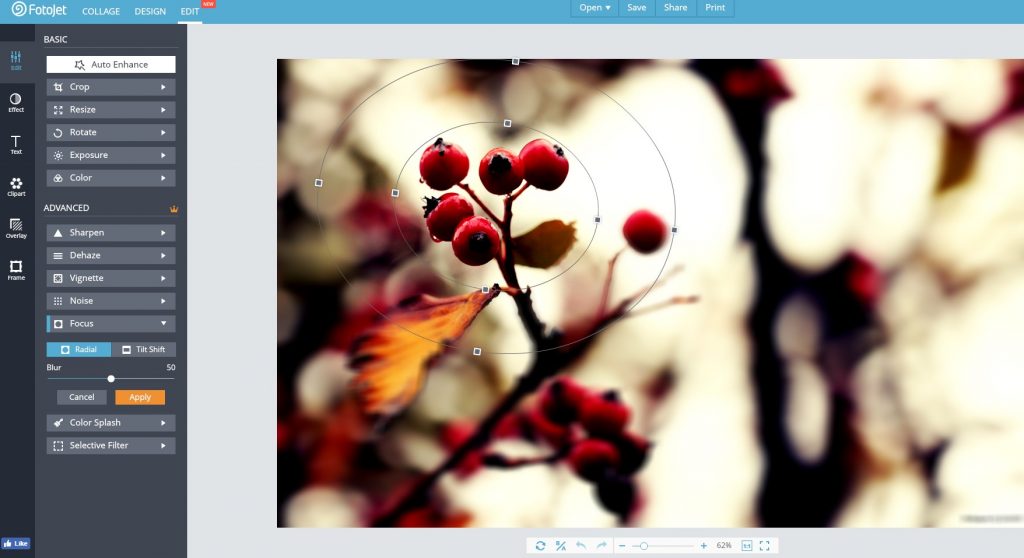 Next, apply one photo effect or superpose some of them to get a final effect. Many effects for Black & White, Sepia, Vintage, Chromatic, Lomo, Old Photo and Scene are offered in FotoJet. You can preview the effect applied instantly on your current photo by browsing the tiny thumbnails under each effect.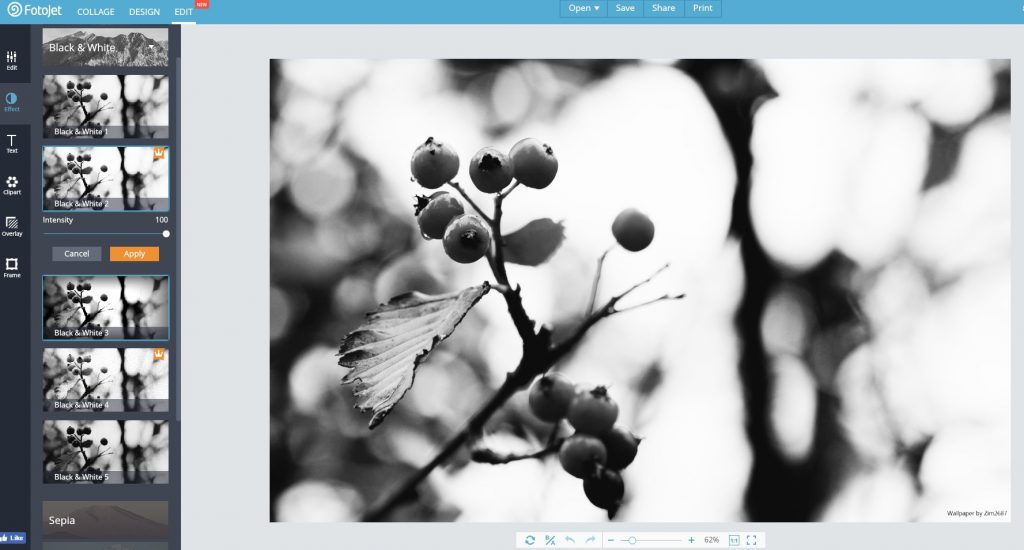 Decorate your photo with text and clipart if you need. You are free to adjust the text font, size, color, style, and other elements like you can in Canva. Here I chose a beautiful little garland to decorate my photo.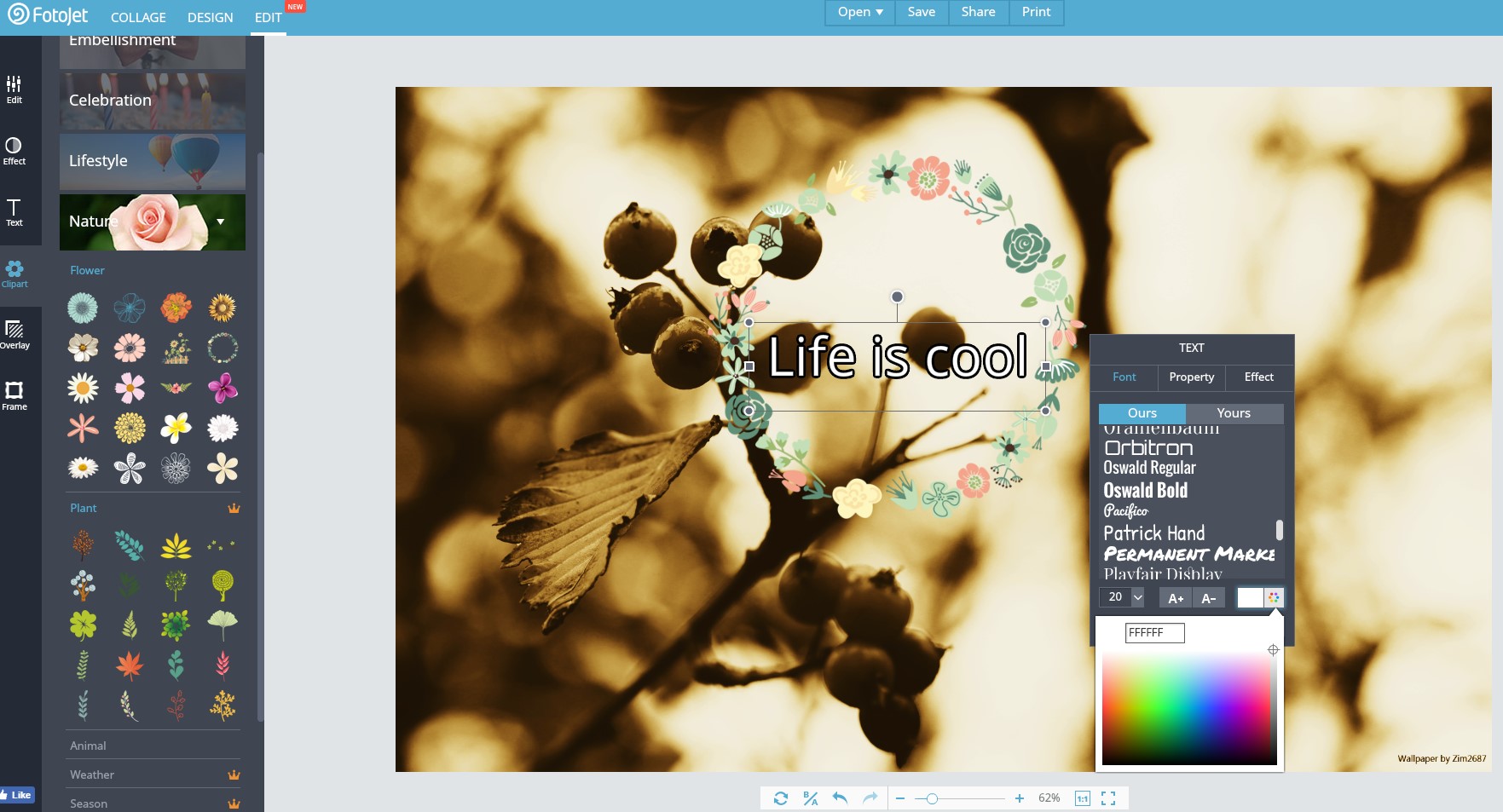 Now, let's say something about its Overlay feature.
FotoJet offers overlay effects for Bokeh, Light Trail, Cute, Montage, Space, Burst, Paper, Fabric, Paint, Grunge and Metal. Here I add a Bokeh overlay and get this result.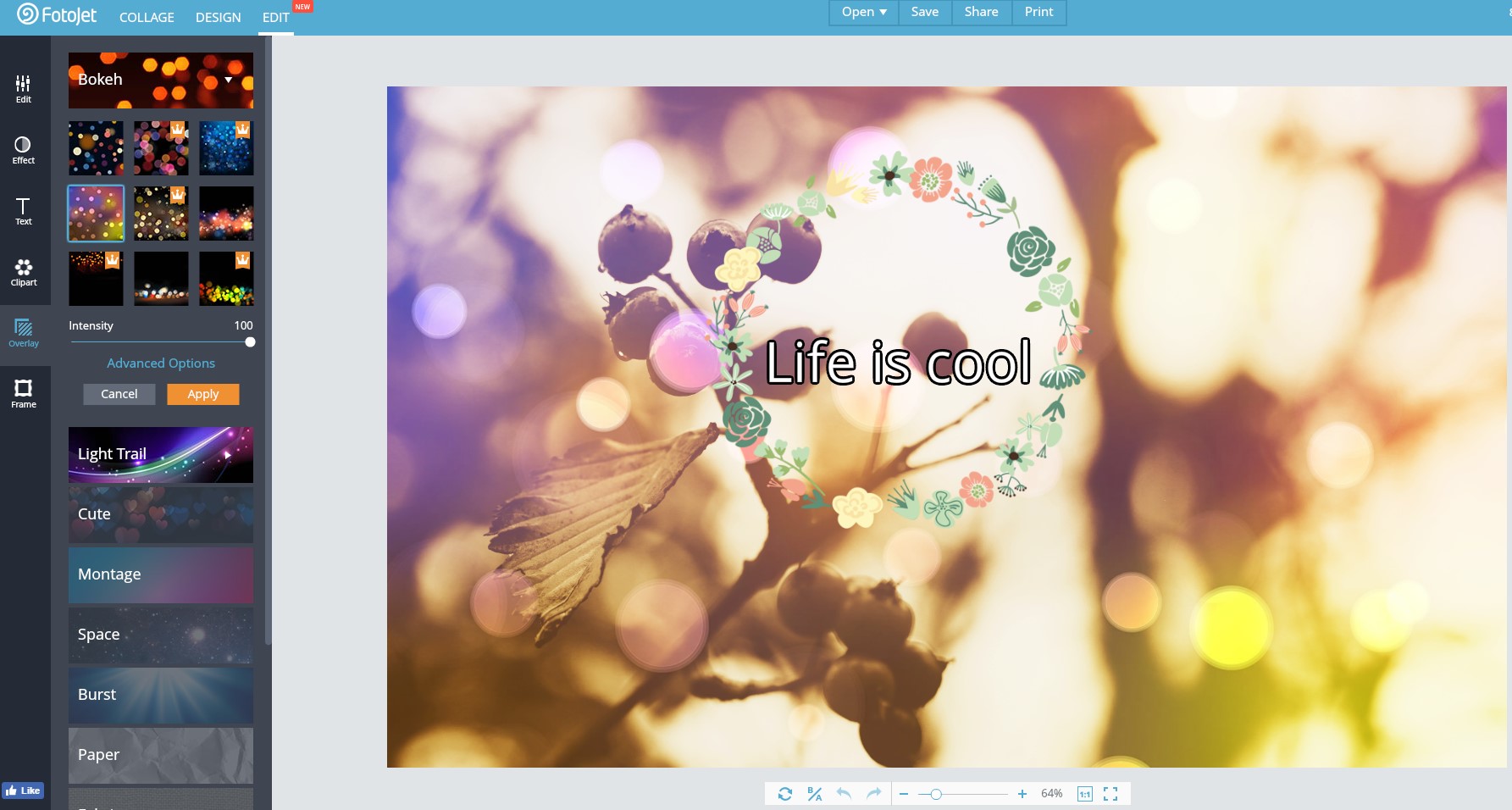 If you want to do more, you can visit and enjoy borders and frames in the Frame menu. FotoJet offers options to add border, shadow, and other types of preset frames such as Border, Shadow, Classic, Polaroid, Edge, Modern, File and Grunge. Using each option, you can get many different results.
Like the photo effect feature, you can superimpose frames as well.

Price of FotoJet
Offering so many features, I was concerned that FotoJet may be very expensive, but it turns out is a very affordable $34.99 for an annual plan – less than it would cost for 3 months of the upgraded Canva. (Price comparison correct at the time of writing, November 2016.)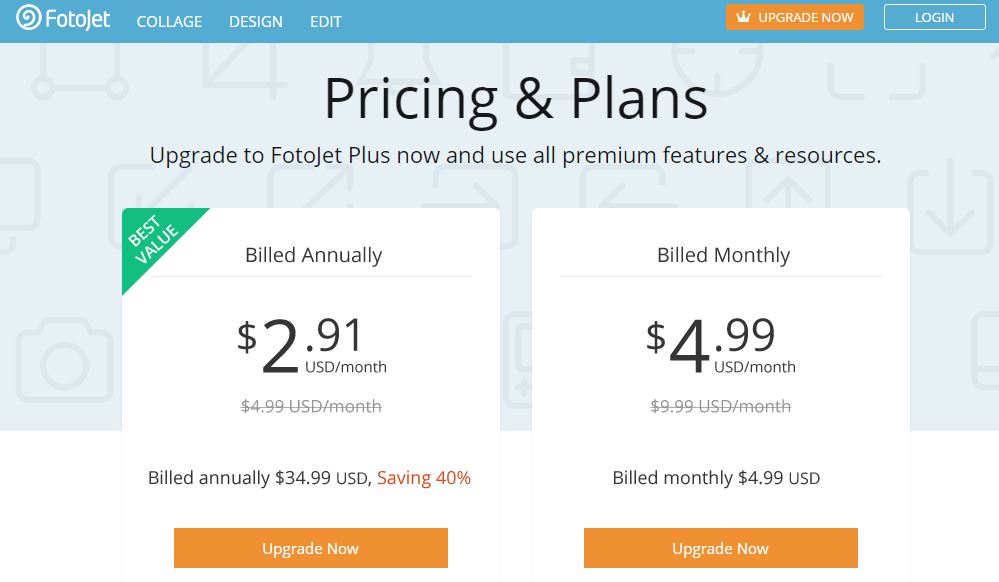 FotoJet Free vs Upgraded
Here's a table comparing the FotoJet features in the free vs the upgraded (Crown) version.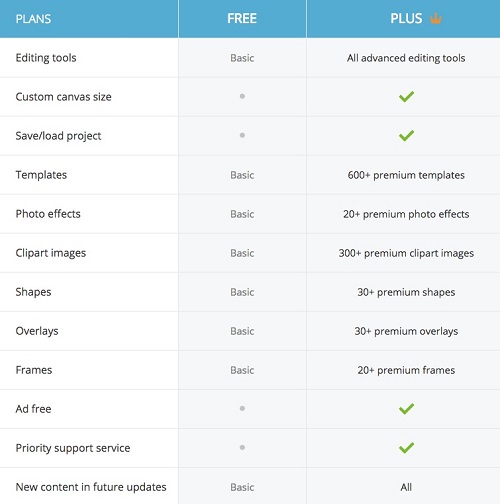 With such a low annual subscription giving all those extra features I think the FotoJet upgrade gives excellent value for money.
Of course, you can always try the free version of FotoJet first.
My Conclusion: Canva Or FotoJet?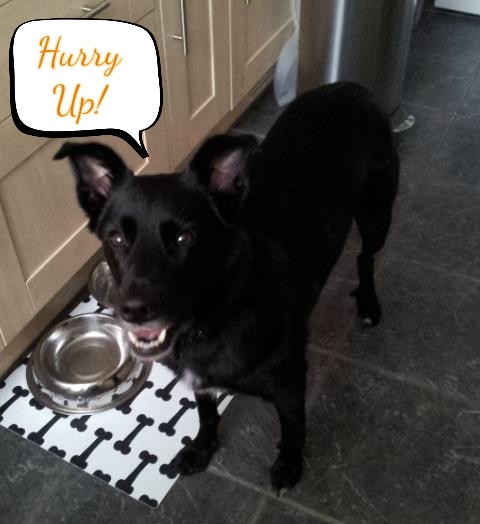 I tried FotoJet with a free account and literally within 5 minutes with no knowledge I produced the picture on the right.
It was so easy I didn't need any training, which is unusual for me as I'm a bit of a numpty with graphics.
A nice feature I wasn't aware of was that FotoJet let me access my Facebook pictures direct to find Bailey's picture, then of course I saved it on my PC.
This is, of course, a very basic application, but I'm sure those of you with more demanding requirements will be well-served.
If you're looking for an online application to create graphic designs pertaining to business use, you may want to use Canva.
If you're looking for an easy to use program to make collages, graphics designs for occasional use, and edit photos for the best result, FotoJet is the place for you.
You will have your own ideas for these programs as well. Check them both to decide if you prefer Canva or FotoJet.
While I don't make enough use of image editors to pay the monthly upgrade fee for Canva, the price of FotoJet makes upgrading much more feasible for me and should appeal to even the smallest of businesses.
Thanks to Candy for introducing me to FotoJet as a lower priced alternative to Canva.
Which Do You Prefer: Canva or FotoJet?
Although I currently use the free option of Canva, I am certainly tempted to look further into FotoJet.
I hope you will try both and share your experiences of using what you think is the best graphic design tool and photo editor: Canva or FotoJet (or your own favorite tool).