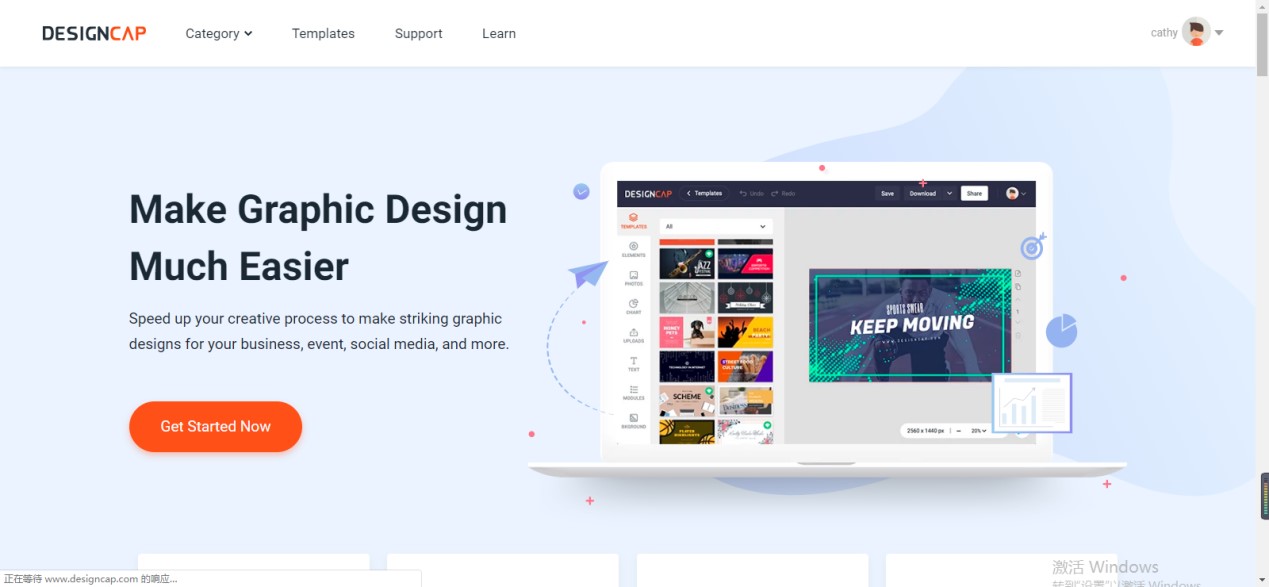 DesignCap simple graphic design features are within the reach of small and part-time businesses thanks to their affordable pricing plans – one of which is free!
Not many years ago, obtaining promotional resources that looked professionals had created them was only within reach of individuals or companies with sufficient funds to invest in marketing.
Today, you can access those same resources, in minutes, within a few clicks, and even totally free.
This is an update of my post a year ago, as DesignCap has had new features added.
DesignCap is an online design tool from the company PearlMountain, which aims to offer professional platforms for amateurs. And, best of all, free of charge. With it, it is possible to access ready-made pieces and adapt them to your campaign, changing texts, icons, and colors. All of this can be done without very little familiarity with such techniques.
It's quick to start using DesignCap using Facebook, Gmail, or your usual email provider. Then specify how the tool will be used (projects for school, store, NGO) and you're ready to go.
In his profile, the user will find the types of layouts separated into four categories: marketing, covers for social networks, posts for social networks, and events. When accessing the desired section, the user is redirected to the online tool. It is there that she can find all the designs in the segment and make the necessary modifications.
The free version of DesignCap has a good range of layouts available. Of the 38 birthday invitations, for example, only ten are blocked. You can exchange texts, icons, and colors, as well as add photos from a free library or use what you have on your PC.
Here, the biggest problem is in the resolution as you can only download the images in small format. A Facebook cover will be 851 x 315 pixels, which is the minimum accepted by the social network.
Advantages of using DesignCap for Simple Graphic Design
The advantages can be summarized in four points:
Templates and resources included. From the start, you have access to a collection of hundreds of templates and complementary resources such as photographs, basic shapes, and text designs.
Saving time and money. Shrink hours of work into minutes at an affordable cost that can even be zero.
Basic digital skills. You don't need to master expensive design programs, virtually anyone with access to the platform and a few minutes spare can create their design.
Simple but useful tools. You start with a blank canvas that, in one click, turns into a custom design; from there, you drag and arrange elements, change colors, and add text easily.
What you see is what you get.
The Three-step Design Process
As simple as:
Choose a template of the hundreds that are available.
Through the different tools to which you have access.
Export. Choose download format and size. Or if you prefer, print directly or download to your computer.
Pros and Cons of DesignCap
The good and the bad points of using the platform for simple graphic design:
Pros
The price is one point in its favor, it is below other competitors in the graphic design sector.
There are hundreds of templates and the number is constantly expanding.
Stock photos integrated into the application itself.
Storage of your designs online within the platform.
DesignCap is available in several languages
Cons
In the Spanish translation, there may be words that seem to have been taken from an automatic translator. This is a minor point and in no way affects the design process.
Remember that if you exit the tool without clicking "Save," you will lose all progress.
Free account storage is restricted to five models, but you can download as many pieces as you like.
In Summary
You will find DesignCap helpful if you are in the process of developing:
Infographics
Reports
Flyers
Posters
Banners
Or designs for social networks
If you currently have a similar design provider or platform, then try DesignCap, compare, and decide.
DesignCap Pricing
The service has a free version that allows you limited access to simple graphic design features. However, if you are an infrequent user of this type of platform, you may be happy with the free version. You can save up to 5 designs within the platform and upload up to 5 images.
At the time of writing (June 2020) the basic plan, 4.99 USD per month, expands your capabilities by giving you unlimited access to templates and elements and the export of your images in high resolution, as well as allowing you to save up to 100 designs on the platform.
The plus plan, at 5.99 USD per month, allows you unlimited access and saves up to 1,000 designs on the platform, so it is ideal and very affordable for more frequent use.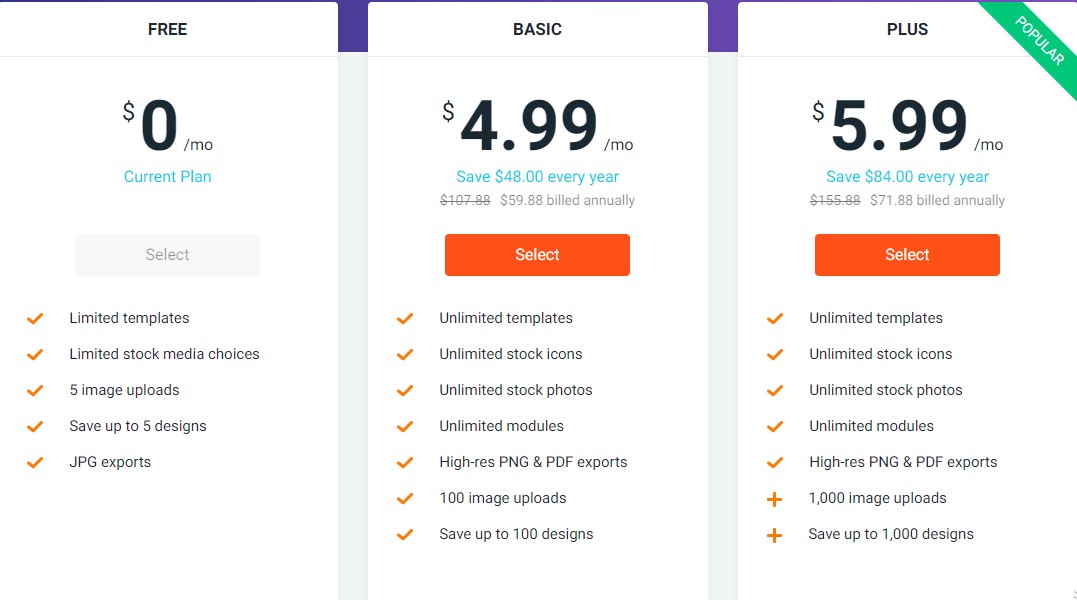 DesignCap offers a series of unique COVD-19 design layouts to use in campaigns to prevent and combat the new coronavirus. There are 50 options with helpful and educational designs.