Searching for an online tool for creating posters? Look no further – here are several tools to help you create an attractive poster simply.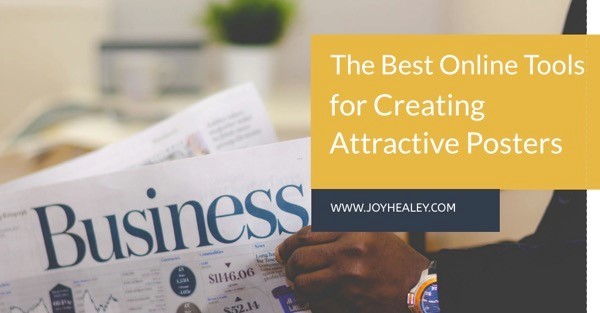 The following tools all contain different images, icons, fonts and templates, which help you create a simple poster.
Thanks to Sophia from DesignCap for compiling this helpful list for us.
Best Online Tools For Creating Attractive Posters
Using online tools to create posters has never been easier. In recent years, a number of online tools have appeared that allow you to create visually beautiful content. These tools are vector graphics applications that run in web browsers, which can be a great alternative to a professional, expensive application like Adobe Illustrator.
These tools contain various images, icons, fonts and templates libraries. Of course, none of these tools have the full capabilities of a professional graphics application, but they can be useful for you to create a beautiful and unique poster in an easy and fast way.
Problems With Creating Posters Online?
You want to design sparkling posters but don't have enough money to hire outside designers? This problem will be solved immediately when you use the free poster design tools we introduce below. No need to install any graphics software (Photoshop, Illustrator, etc.); now with these, you can design posters for yourself – anytime, anywhere. There is no need to have in-depth knowledge of the craft because these tools are built with the most comfortable drag-and-drop operations for you.
So here are some online poster design tools that can not be missed if you want to create a beautiful and awesome poster. They are especially helpful for those who do not have much time to teach themselves the complex programs that require time to tinker. Please choose the tool that best suits you.
1. DesignCap
DesignCap is an excellent poster design tool that helps you create impressive posters in just a few minutes. The intuitive interface makes it easy for users to interact. DesignCap offers hundreds of professional poster templates, so you don't need to design from a blank page. The number of photos, clipart images, icons, fonts, shapes, lines and backgrounds is impressive. You can easily create posters that attract customers and have a high interaction rate.
What is the greatest thing? Everything is free in DesignCap, and there is no registration required.
2. PosterMyWall
PosterMyWall is a tool to help you create online posters easily and effectively. However, for free accounts, of course, there are not as many features as there are with a paid account. Nevertheless, you can use thousands of different designs, edit them to suit your ideas, and then download them to your computer. If you want your poster to have a higher image quality, you will have to pay a small fee. The best thing about PosterMyWall is that it provides great design resources so you can unleash your imagination and creativity.
3. Uplevo
Uplevo is another online poster creation tool developed by a company based in Vietnam. In addition to advertising photo design features: Facebook ads, Facebook posts, and Facebook covers. Uplevo also provides outstanding features for designing posters and banners with a very small cost, suitable for someone who has a budget.
There are hundreds of different designs for you to choose from. The design work should only take you from 5 to 10 minutes because of the extremely simple and accessible tools.
4. Canva
Canva is also on the list of very effective online design tools today because of the free features that it provides to users. If you've ever designed a banner or photo cover, you probably know how great this tool is. You have options to upload your own photos and they will be available for re-use to registered users when you come back next time – even in the free version. Canva also provides effects and tools for editing your photos to perfection. Experience Canva right away to create beautiful poster designs.
Check out this link to find out more about Canva's FREE poster maker.
5. Adobe Spark
Adobe has published an online poster design tool called "Adobe Spark".  This software works as follows:
a. First, pick the right size of the poster to suit your needs.
b. Select the desired poster theme that suits the mood of your poster.
c. Select the background image for the poster. You can import them from your computer or social network account.
d. Choose fonts, add text and shapes you want.
e. Share, download or print your poster.
6. Fotor
Fotor is known as a surprisingly complete graphic design tool including designing banners, logos, wallpapers, and creating beautiful advertising posters. All you need to do is create an account on Fotor, select a theme from thousands of designs in the library and design your own poster. Fotor also has an enhanced version for only a very low cost if you want to access more features. In the free version, the design photos will have Fotor's watermark attached, so be careful.
7. Visme
Next, Visme is another online poster design tool that you should not miss. You can create professional posters, impressive infographics and in-depth reports with Visme. They have thousands of designs for you to choose to best suit your needs. But, with a free account you can only design up to 3 products, and at the same time, the number of samples to choose is limited. The file format to download will be JPG and PNG.
You may have heard of Brother; the printing tool is great, right? They have also released online poster design software specifically for printing. It comes with hundreds of professional designs right there on the website, you just need to edit them to your own liking. The list of designs are broken into separate categories to help you search more efficiently. You need to install Adobe Flash player onto your computer before designing.
Venngage Post Maker is another free tool, like Canva. (Updated March 2021)
10. The Canvas Prints PhotoEditor
Finally… if you want to edit an image for your poster, Check out http://www.thecanvasprints.co.uk/photoeditor. You can simply drag an image and start editing. It's got really great features and is completely free and easy to use.
I hope you will find these tools helpful and if you can suggest any other good alternative online tools for creating posters, please let us know in the comments.