Today's article is a guest post from Rohan Chaubey, explaining how to increase business on Instagram.
There are NO affiliate links. Although I have two Instagram accounts, proper marketing of them is something I haven't got round to doing yet (to my shame!) but I'm happy to let Rohan Chaubey tell you about GetRiver.com which he has been using to increase business on Instagram.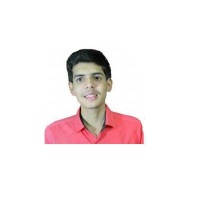 About The Author
Rohan Chaubey helps bloggers, authors, SaaS businesses, and startup founders grow their movement, position themselves as a leader of their movement and build a social following around their mission using content marketing, social media growth hacking, world-class customer service and PR.
Fail-Free Backdoor Way For Businesses To Rapidly Grow On Instagram
It is undeniable that social media has taken over the internet. Every business wants to take advantage of the various social media platforms for marketing. Whether it is to promote a product or to increase one's social identity – all the possibilities are being taken up widely!
It is predicted that Instagram will hit 1 billion monthly users in 2018. If you haven't started Instagram marketing yet, now is the right time.
Many businesses have started utilizing Instagram as an important marketing channel. Irrespective of how big or small a business is, every brand wants to increase their brand awareness and boost sales. If you still haven't started promoting your brand on Instagram, continue reading to know the reasons you should market your brand on Instagram.
#1: Build Connections
You can start off by sharing experiences, telling stories and spread knowledge just to build a connection with your potential customers. You can share stories, pictures, videos and infographics about your brand on Instagram.
You can learn more about your audience by reading comments and replies on your posts and stories.
#2: Visual Content
Pictures and videos are always more engaging than plain text. Theme your Instagram grid with a visual content strategy, it will make your target audience follow you and will look forward to future posts.
Moreover, now with Instagram stories, it has become more easier to attract extra campaign views.
#3: Wide And Diversified User Base
As we know, Instagram is growing rapidly ever since Facebook acquired it – it has equally become much easier to be approachable to the customers.
On Instagram, the most highlighted feature of 'hashtag' will make your content reach out to a larger audience, especially those who use or search the same hashtag. All you need to be sure of is to use the right hashtag and location in order to target the right audience.
#4: Customer Engagement
Be it posts or stories, Instagram gives you an opportunity to connect with your customers directly. Moreover, Instagram is the key social platform where users too can directly engage or reach out to a brand.
Hacks to increase engagement on your posts:
Sprinkle emojis in caption.

Every third post, ask your followers to tag their friends.

Get people to comment on your posts (Hint: Ask questions).

Have a consistent theme and design for your account.
Increase Business On Instagram The Backdoor Way
"Marketers" will say, "You're a late adopter."
Just laugh it off.
You can get started now if you haven't already. I've grown to 10K followers with above average engagement in less than 90 days of growth efforts.
The fastest way to grow on Instagram is to let a team of experts work on your behalf.
GetRiver is one of the best management agencies that I came across to increase business on Instagram.
#1: Boosting Engagement
River team constantly tests new Instagram updates and engages on your behalf to the safest limits. Since River has real account managers they never violate any Instagram limits.
I found a case study on a tech blog which showed 1197% increase in engagement after using GetRiver team's service. I have seen the exact same results for myself.
High engagement serves as a social proof that your followers actively engage with your content.
The secret to increase engagement on Instagram is to engage with your target audience.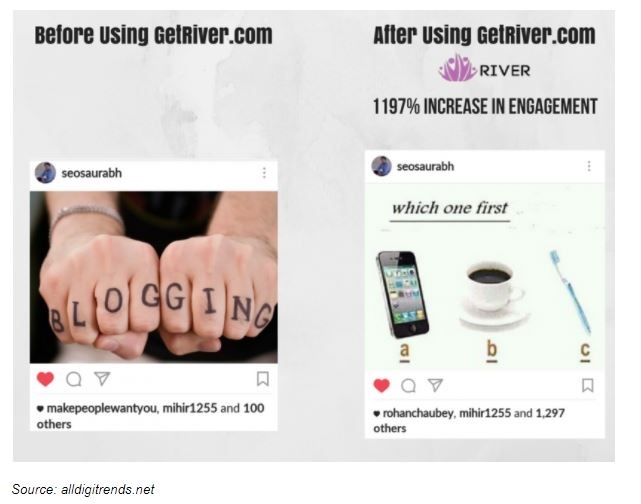 #2: Growing Targeted Followers And Traffic
GetRiver offers two packages: Engage package and Managed package.
The Manage Package is the best one they offer. It can engage you with around 40K new people every month. Once properly set up, you do not have to anything and River team will perform actions on your behalf 24/7. They have a remote team from all around the world that manages your account across different timezones.
The Engage Package lets you control who to like, follow, etc. They suggest queuing 500 follows and over 800-1000 likes a day. And the actions are spread across 24/7. Once you have queued the actions, you do not have to do anything.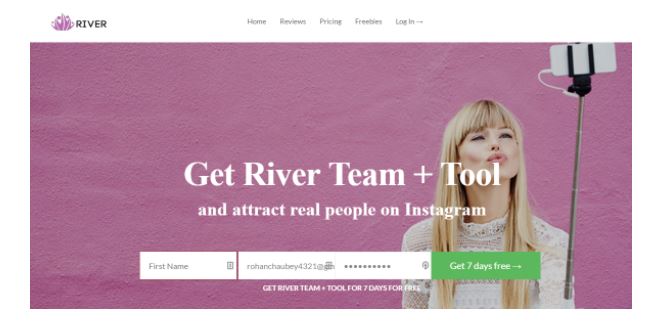 #3: Free Tools And Guides  
You can increase your reach + engagement by utilizing the right hashtags. You can use up to 30 hashtags in your post captions.
Use hashtags that your target audience is most likely to use or search for.
GetRiver's hashtag finder tool will generate hashtags for you based on 3 keywords that you type in. When the hashtags are generated, you simply choose those you like, mark them and select 'add on dashboard'. It suggests non-generic hashtags to maximize your impressions and not compete with millions of other Instagrammers.
GetRiver also offers free guides and Instagram engagement calculator tool.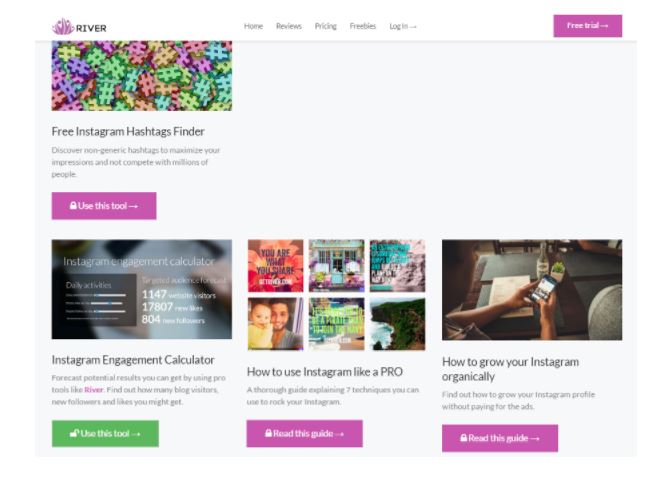 River is featured and mentioned on HuffPost, The Next Web, and other news/media outlets.

It has helped more than 64,395 Instagram influencers, professionals and celebrities grow and be popular on Instagram.
You can avail your 7-days unrestricted free GetRiver trial. No credit card required. They have a remote team working around the clock; you can shoot them a message and live chat with them if you have any questions or want suggestions to formulate a strategy for Instagram marketing.
Over To You
Thanks, Rohan, for this interesting way to increase business on Instagram.
Using a professional agency sounds a tempting way to save time to me. What do YOU think? Please share your comments below.