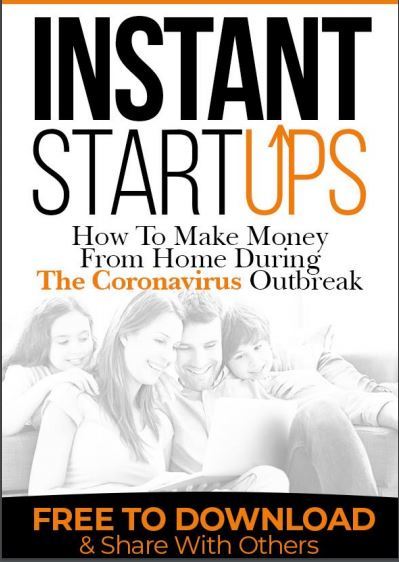 A very short and sweet article today, as – despite self-isolating (in excellent health) – I'm busier than ever.
Partly because of my online business, and partly because my offline business is busy too; I do freelance work for an exporting company that is trading well and profitably, but under challenging circumstances.
That's what we all need to do. Rise to the challenge and find new ways to earn an income, secondary or maybe even primary source of income.
So I am delighted to give a big shout out to my generous online marketing friends, here in the UK, Nick and Kate James.
They have provided me with a free "Corona Virus Work From Home" Book to give away to anyone who needs to….
Make Money From Home In The Coronavirus Outbreak
It contains start-up ideas that even complete beginners can implement instantly.
Yes – it contains affiliate links from which Nick and I will make a small commission IF people purchase any of the detailed trainings within the ebook, but at the moment they are at a deep discount from the usual prices. I know this for sure, because I have sold these products before in happier times.
No – I am not profiteering from this terrible crisis, I am sharing hope. Hope that there is something you can do to pay the bills until the world gets back to normal. There are urgent adverts recruiting delivery drivers, supermarket staff, call centre workers and front-line health professionals. If you are in any of those categories, DON'T download this book – answer those adverts and provide first-line help. But don't spend this period just wallowing in front of the TV.
No – you do NOT have to purchase anything to benefit from the information in the eBook. Without purchasing you'll already find 45 pages of tips and ideas to get you earning again. The further courses on offer will just help you do it more efficiently. When I first started out online, the biggest mistake I made was ignoring advice from those who had 'been there before'. Instead I tried to reinvent the wheel. The mistakes I made cost me time, money and profit. Don't be as stubborn as I was. Learn from the accumulated wisdom of those who have done it before.
Please download it free, here, and share it widely with anyone who may benefit from it.
The Power Of A Team
In an earlier article and on my daily newsletter tips I have been banging on about the power of having your own team, and if you can't do that, at least working  within a team.
There are SO many tasks involved with selling online that compiling and producing information like this isn't a task for a beginner. And it's hard work even for someone like myself who's been doing it some time.
I'm not big enough yet to have a full-time team, although I use part-time freelancers on Fiverr. 6-figure marketers like Kate and Nick can call upon their team of full-time employees who can quickly put together quality information products such as this one.
It's to their credit that they have shared it with smaller marketers like myself, (a) so that we can circulate it widely to our audiences and (b) to give us (and you, if you choose to do so) a way to earn commissions.
This is an example of the benefits of working within in team.
Together
Everyone
Achieves
More
Enough of the corny mnemonics 🙂
Grab your free copy here, read through first to see which appeals the most – there are at least 5 to choose from. Then take action.
Oh – and don't forget to share it with anyone else who wants to work from home in the CoronaVirus outbreak – or at any time, the advice still holds true – and more people than ever may now realise the importance of having a Plan B.