Struggling With Social Media Management?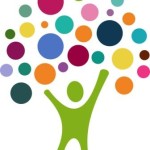 Is this how Social Media Management makes you feel? I know it's how I feel about it!
I've tried several social media management platforms in the past and never quite found one that ticked ALL the boxes.
So I was very interested to find out more when I was recommended to try Oktopost "One Powerful Platform for Social Media Management" claiming it will help me easily manage and measure all of my B2B social media marketing campaigns.
#Review of #Oktopost #SocialMediaPlatform:
Click To Tweet
Who Will Benefit From Using Oktopost?
The simple answer could be anyone with a social media business presence, but the "elephant in the room" is that Oktopost has a popular competitor which most readers of my blog will be familiar with: the Hootsuite social media management platform.
HootSuite is targeted at the B2C (Business To Consumer) market-place whereas Oktopost's stated target market is B2B (Business To Business) because it offers better ability to track social media marketing campaigns over the long term.
Even if you are NOT a B2B marketer, Oktopost has some very powerful features that give it a clear advantage over Hootsuite, but I did find one important drawback that I'll cover more fully in the section on adding profiles.
Having spent some time on the two platforms my definite preference for ease of use is for Oktopost but I'm afraid I must admit to a prejudice here because, unfortunately, despite two attempts to use HootSuite I never "got on with it". Clearly the fault lies with me, because HootSuite is a very popular and successful tool with millions of happy users since 2008.
The best way for anyone to decide is to set up a trial account, and with a free (no credit card) 30-day trial on offer, I couldn't wait to get started. Here are the stages involved, and my thoughts.
Free trial of Oktopost #SocialMediaManagement tool
Click To Tweet
Review Of Oktopost
Here are the steps I took, and what I found.
Connect Social Profiles and Pages
I connected my LinkedIn profile, two Twitter accounts, four Facebook Pages, my FB profile and my Google+ account within a couple of minutes. The setup was extremely easy to do.
Then "Jen" from customer services popped up in the bottom right hand corner of the screen offering me assistance with the next step.
Support from Oktopost
A very helpful feature of the software is the ease of access to the extensive library of help – tailored to where you are in the process. Most places you will see a question mark at the bottomt right. Just ask a question and up pops the answer. If you don't find the answer you want you can leave a message. Amazingly enough I asked a couple of questions on Saturday night and found answers waiting for me on Sunday morning. Sensible answers too, that showed the support team had actually read my questions LOL.
One of the most important features I test when reviewing software etc is the support.
#Oktopost #SocialMediaManagement support is first class
Click To Tweet
Assigning Queue Times
Having set up your Profiles, this function also allows you to define your Queues – i.e. when posts can be made and how many posts within each time period. This is extremely flexible as there can be several different time periods per profile which allows schedules to be as complex or as simple as you wish. For instance you may only wish to post a couple of times per day to your Facebook pages, but more frequently to your Twitter account. For example:

Oktopost Dashboard
Oktopost is driven from a dashboard with major tabs down the left hand-side, and across the top are functions within each one. It shows a snapshot of your Social Media activity at the top, and of your campaigns at the bottom.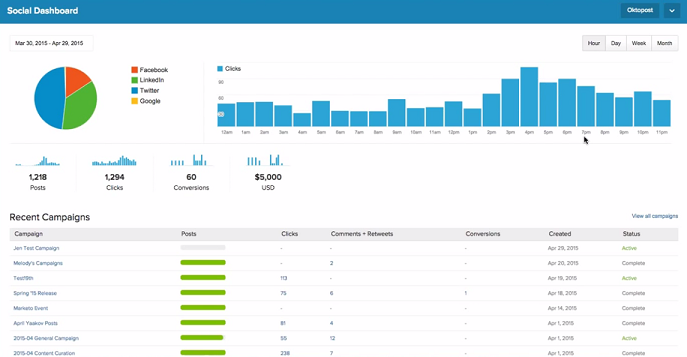 Oktopost Campaigns
For better ad-tracking, Oktopost works with "Campaigns". Start by giving your campaign a descriptive title for ease of use – this should identify purpose, such as brand awareness, lead generation, event promotion etc. Campaigns can be assigned colors for ease of reference in the calendars. You can see which campaign you're working on at the top of the dashboard. Be sure it's the one you intend to use.
It's not mandatory for posts to be in a campaign, if they're not, Oktopost will create a general campaign so that tracking is still available.
Schedule Posts
To create your first post for a campaign, click on the Calendar tab, select the social network you want to post to then enter your message and URL (if any). You can scroll through the links on a post to find the most suitable one, or you can add images from your local machine, Facebook and various other sources.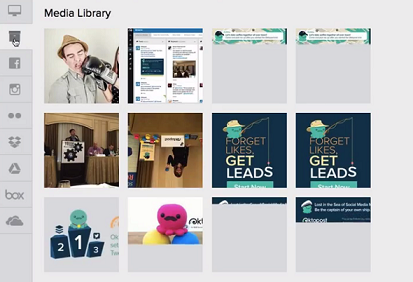 Messages that you create in Oktopost are saved as Message Assets for re-use.
Assign a date and time, or queue the post, then schedule it and either close the console, or continue adding more posts.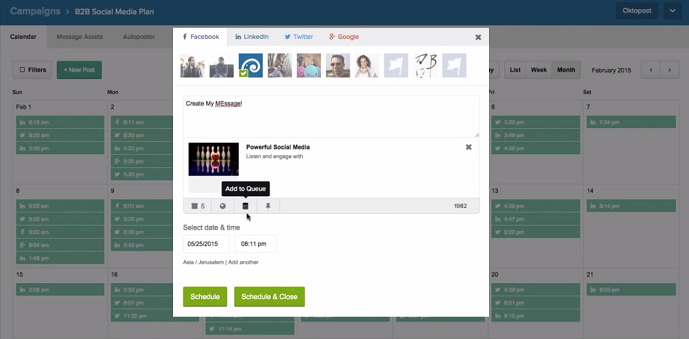 Curated Content
It's important that the majority of your social media posts should not be "selling" / promotional. You can use the Content function to add content curated from other online sources, selecting keywords according to your followers' interests.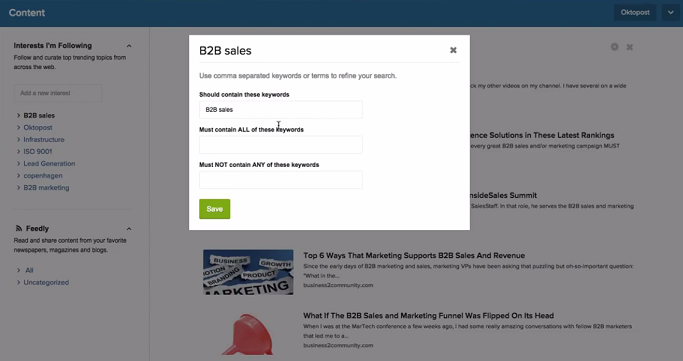 Above you can see the keyword selection options, and below, the type of post generated. Once an interest is defined, Oktopost checks the web for articles matching the specified keywords and selects results from articles within the last 7 days.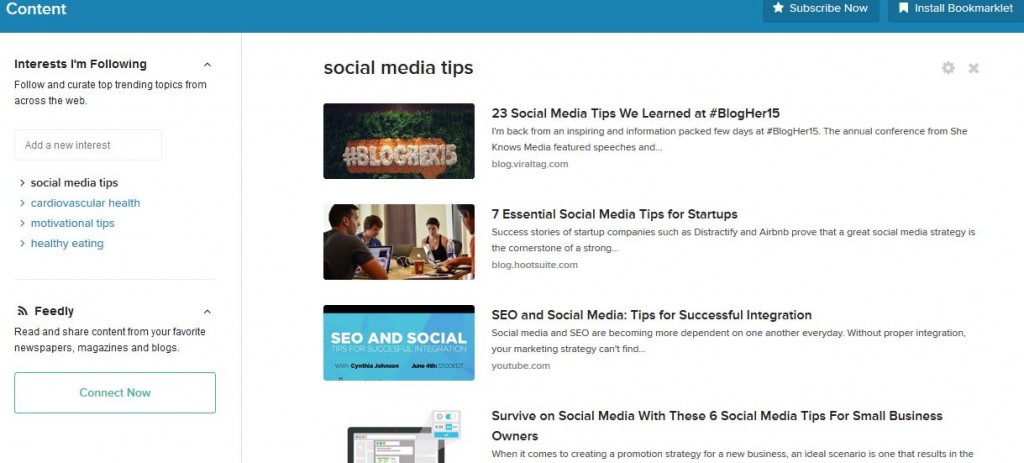 These curated posts can be shared from within the content discovery tab by clicking the article title, text or image which will display the sharing console with the article's title and link pre-populated ready for posting.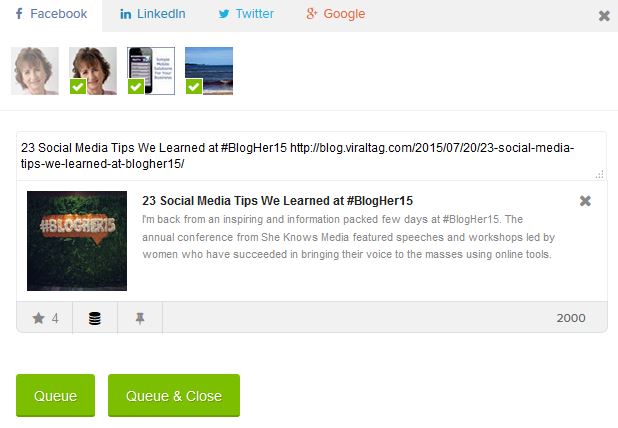 Articles that have already been shared are shown in a lighter shade of grey with non-bolded fonts.
Pro: For articles that you decide are unsuitable, you can "Hide" them, unlike another platform I tried where I was unable to remove the articles I didn't want to use.
The Auto-poster
The Auto-poster allows you to set up your messages across multiple social profiles using Message Assets created separately for each network (to ensure the correct formatting is used).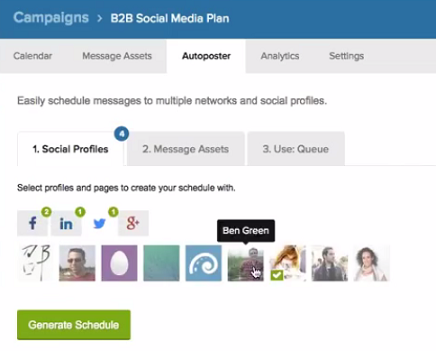 From the Auto-poster tab you choose your social profile, select the Message Assets you want to post and then the time period or "Queue".
Add multiple occurrences of the same post by clicking "Add another" and change the date and / or time.
After setting up, "Generate Schedule" creates the posts in the calendar. Generated posts need to be approved or discarded.
When the desired number of posts have been scheduled you will see a calendar of posts such as the one below, and each post can be examined as shown. Note the different colors for each campaign. Posts can be edited within the calendar and moved by drag-and-drop.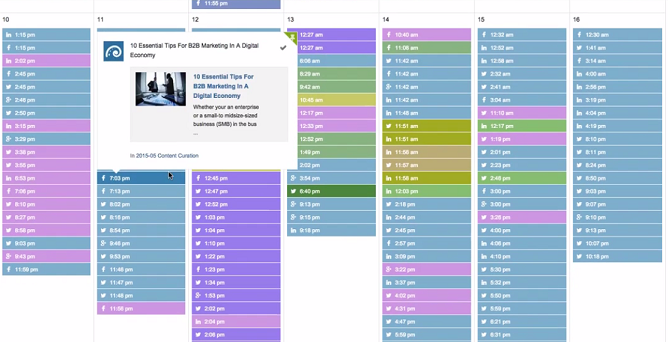 If you wish you can filter your view of the posts in many different ways, as shown below: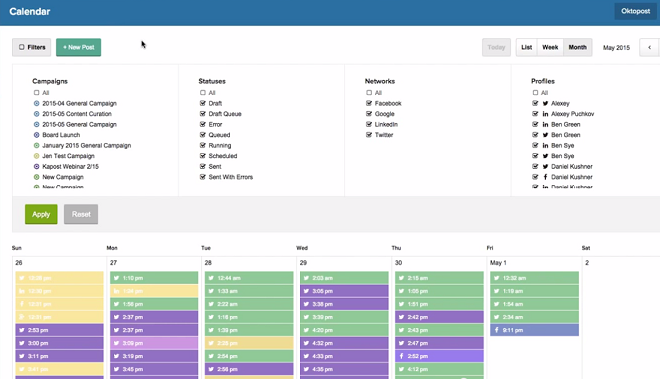 Conversion Tracking
Oktopost lets you track "conversions" – user actions that you define as having a value to your business, by placing a piece of code (transparent pixel) on your target page. This could, for instance, be used when a user attends a webinar, downloads a free report, or makes a purchase.
Assigning values to actions lets you track the Return on Investment of a conversion.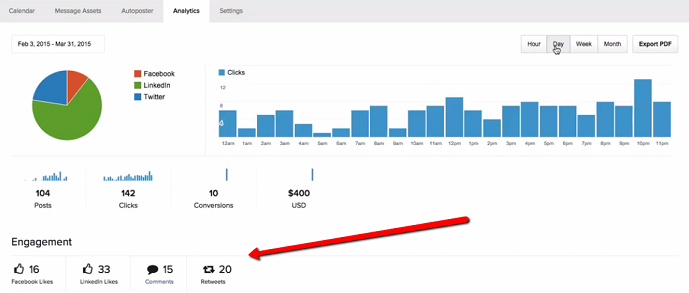 Oktopost Reporting
The Report tab lets you monitor the results of your social media performance overall or by campaign / network, by the hour, day, week or month. And you can produce a PDF report for distribution for interested parties. Where appropriate you can export to Excel or CSV.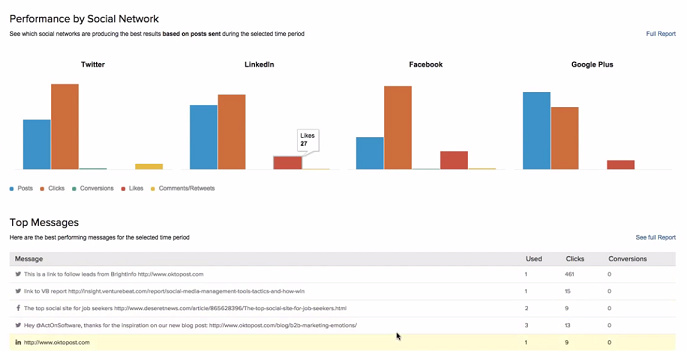 Here is another format:


Lead Capture
When a report shows that you have had a Conversion, you can click on the prospect to see more details of the person and their social activity on your posts, right down to looking at the messages they clicked on. These leads are captured in a database for 3rd party integration, depending on your selected package level.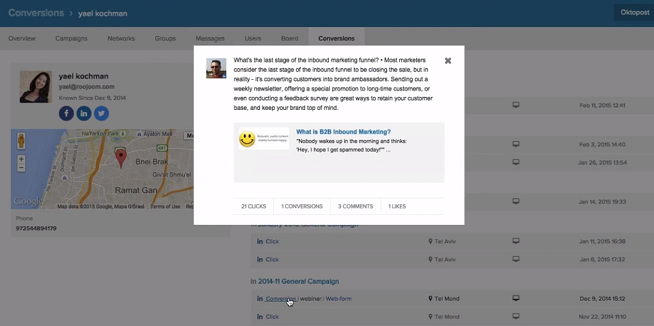 Listen and Engage
You can monitor social network activity from "Streams" on your connected profiles:
LinkedIn: Company Pages, Discussion Groups
Twitter: Mentions, Re-tweets, Feeds, Keywords, Lists, Favorites, Home Feed, Direct Messages
Facebook: Business Pages, Business Page Direct Messages
Google+: Business Pages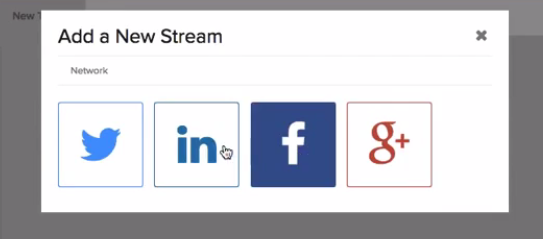 Pro: I could set up different tabs to view different different groups of streams all on one screen. So for instance, I set up one tab to view all my Twitter accounts, one tab for all my Facebook pages, and a third tab for my Facebook pages. Equally easily I could have assigned a tab per niche. This makes a superbly easy way to monitor all the social accounts in one place.
Con: I was disappointed to find that only business pages and groups within pages were supported as Streams for LinkedIn, Facebook and Google+.  This reflects the fact that Oktopost is primarily a B2B platform, but perhaps smaller businesses, such as me, haven't set up business pages for LinkedIn and G+. Obviously I have business pages for Facebook, but being a "one-person band" people tend to send me messages on my personal profile rather than on the business pages.
Con: With the extensive range of Twitter streams available I was surprised I could find no way to monitor Follow / Unfollows.
Pro: It was very easy to call up the help facility on the bottom right and ask how to do this, which promptly highlighted the fact that four other people had requested this facility, and I was able to add a "Me Too" vote. It will be interesting to see how quickly requested features are added.
Oktopost Inbox
The Inbox monitors your profiles, allowing you to view comments on posts scheduled using Oktopost and reply on behalf of the original poster to comments from within the software .
This is a great time-saver because it saves you having to check each platform individually.
Integration With 3rd Party Platforms
Oktopost integrates with several 3rd-party marketing automation and analytics tools so that you can sync data across many other platforms to monitor social media performance.
Salesforce.com Integration
Marketo Integration
Bitly Integration
Act-On Integration
GoToWebinar Integration
Google Analytics Integration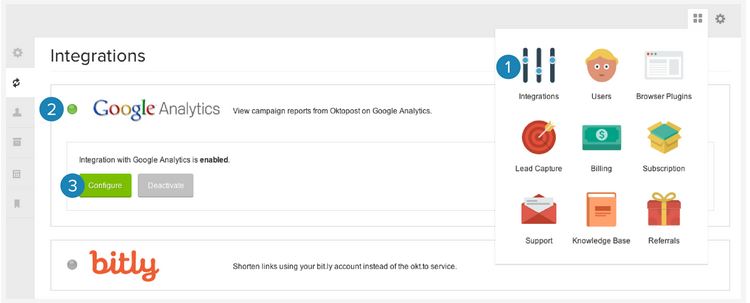 Employee Advocacy Board
An interesting and fun feature for larger organizations is the Employee Advocacy board designed to get your employees involved with growing the company brand by connecting to their LinkedIn, Twitter and Facebook accounts. Employees can login and share / amend predefined messages.
And here's a friendly inter-staff competition "leader board" to see who's doing the most for your company's online campaigns.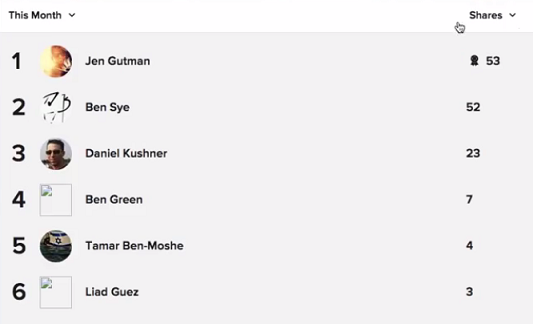 Tempted? I Certainly Am!
That concludes my review of Oktopost. I hope you found it useful.
All that remains is for you to decide whether it's the social media management tool you're looking for.
Many people will wonder what are the advantages over HootSuite, another well-known platform with a lower price-tag.
Although the list that follows is adapted from the Oktopost website, I will add my own opinion that Oktopost had more useful features, was easier to use, and I "picked it up" in a way that I never did with HootSuite.
Advantages of #Oktopost vs #HootSuite #SocialMediaTool
Click To Tweet
Benefits Of Oktopost vs Hootsuite
Apart from the noted B2B vs B2C target market, here are the major differences:
Campaigns – instead of one-off posting, all posts belong to a "campaign" with a particular purpose and you can track analytics by campaign.

Conversion Tracking – Tracking clicks and engagement is only the start of your analysis, Oktopost lets you track conversions. These actions show that the prospect may be considering a purchase, so because you can see the specific social post on which the conversion occurred you can deduce which social networks and messages are contributing the most to your profits. You may also wish to interact directly with the prospect.
Lead Capture – On conversion (see above), Oktopost stores a prospect's contact details in a lead database. This data can then be synced with popular 3rd party integrations so that leads can be transferred from the marketing to the sales team with no need for manual transfer.
Long-Term Social Campaigns – Hootsuite lets you easily schedule a one-off post, but you'll probably find it more difficult to launch a long-term social campaign. Oktopost has an Auto-poster feature that lets you select different social networks, profiles and company pages and automatically create your posts for a selected date and time interval.
Social Inbox – you don't have to log into each social network to track and reply to comments. Reply to comments from Oktopost, and keep track of the engagement your posts receive.
Unique Messages Per Network – Facebook, LinkedIn, Twitter and Google+ have different user types so Oktopost separates them, which encourages you to create messages styled specifically for each audience.
Unlimited Access to Reports – Oktopost offers access to unlimited reports, in various formats, on both a Campaign and Account level so that you can see which social networks, profiles and messages deliver the best results.
Do I Recommend Oktopost?
I wholeheartedly recommend it to a larger organization with business pages set up on LinkedIn and Google+. I didn't explore the Team functions, because they're probably beyond the needs of most of my readers. However, from my reading, they're a must for large B2B campaigns.
Update June 2016: Here are the Oktopost prices and sadly they've gone right out of budget range for a one-person business like me. (I came back to re-check the pricing after various unsatisfactory encounters with other software.) However for a larger organization, this seems dream software to me.
It was easy and intuitive to use, well documented, fast, and when I did have questions, help was close at hand.
If LinkedIn and Google+ had supported profiles instead of just pages I would have found it very hard to resist, because at the moment I have a hotch-potch of posts hitting my social media from several directions and the thought of managing them all from the Oktopost dashboard is extremely appealing.
I have enjoyed using this software, as evidenced by the fact that I spent far longer reviewing it than for my usual reviews!
Click the link below to watch a demonstration of Oktopost.
Register for an Oktopost webinar / tour here.
Even better, you can sign up for a 30-day free trial (of any level) and without a credit card.
Free Trial Of Oktopost
I hope that

this brief tour through Oktopost's features has encouraged you to want to learn more, and the best way to determine this is to take a free trial.
Click here for free trial of Oktopost – social media management software.
I'm very interested to hear your thoughts about the Social Media Management tools you use in the comments below and please share this post widely so that others may benefit from this free trial of Oktopost.