Until recently, if anyone asked me about free business tools for small businesses when they want to start an online business with their own blog/website, I would have had to explain that there are MANY things they will need:
A domain name
A decent blog theme,
Paid hosting (probably using WordPress like me),
An auto-responder (mailing software to keep you legally compliant)
Maybe an e-commerce site, depending on the application
These being just the basics.
Then on top of that you need things you've probably never heard of when you start out – he first you're likely to come across being a funnel builders. As you discover you need them you find that the market leaders that many people recommend are expensive and they need expensive monthly subscriptions.
Yes, I do agree, for any online business, there are many essential tools you will need as your business grows.
But if you're like me, you'll try and resist buying the expensive market leaders such as ClickFunnels – to name just one of the essential business tools for small businesses, and probably the most well-known.
Unless you're very lucky you could be a long time before your profits cover the cost of your business tools such as: blog hosting, mailing program, ecommerce store, tracking software, funnel builder – to name but a few. And connecting them all together can strain the patience of a saint as one support desk tries to blame another.
Then one month, when you haven't covered the monthly fees, you cancel something and everything falls apart.
An Alternative to ClickFunnels
Instead of buying loads of separate tools and trying to make them all work together, there is now software known as GrooveFunnels which provides many tools that a new online business person needs all in one place, and crucially this means you have one port of call for all your technical support.
Note – if you are following the free affiliate marketing training that I recommend, please use the resources recommended there – simply because their training videos uses their own tools rather than GrooveFunnels. 
The GrooveFunnels route is either for people who know nothing and are starting from scratch with their own blog/website, or people who who are very knowledgeable and can translate the GrooveFunnels training into the affiliate marketing training.
Don't try and mix them! If you want advice as to which is the best route for you, contact me!
If You Choose GrooveFunnels….
You can open a free account by clicking here where all the tools you will need to get started are included. See below. If you don't recognise those tools yet, as your business expands, you'll learn why you need them.
Some people who open the free account never need to pay another cent. Others, whose business expands, may exceed the free tool limits and need to upgrade to a paid plan. But it will still be cheaper than paying a subscription for all those tools individually. Open that free account and watch the training tutorials inside, and that will follow.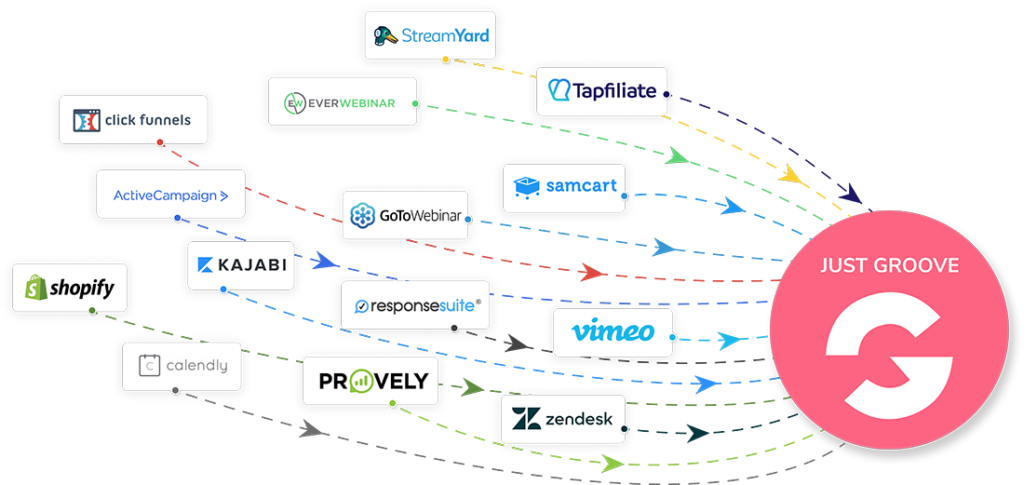 My Own Site?
You may wonder why my own site is still hosted with paid WordPress hosting when I recommend Groove to you. It's because there is so much of it that, built over many years, that I'd rather continue to pay for the hosting where I am than attempt a transfer to completely different blog type.
But if I were starting afresh I would certainly avail myself of all the free business tools provided at Groove.
Groove Training and Groove Freelancers
You will find tons of training will be sent to you, and more is accessible from within the software. There is also a Facebook group where you will find freelancers of variable quality offering their services. I managed to choose a poor one and ended up feeling it would have been a better use of my time to have learned the software myself. You may have better luck.
My advice would be, if it's a task you will need to do more than once, learn it yourself!