Why do I need a squeeze page?
Making squeeze pages is one of the tasks I've always found most difficult online. Squeeze pages are pages that collect a visitor's name and email address, often in return for some information and usually free.
Once visitors have opted in to MY list, as opposed to someone else's, I can mail them with offers related to their interests in the hope that they will buy.
Here's the tough lesson I learned that finally convinced me to master the task.
A Cautionary Tale
I was a successful affiliate for a well-known online program and over the eight or so years I worked the program I built up a list of over 2,000 people interested in their product – including some purchased leads. The company mailed them offers on my behalf and I earned well out of the program.
…..Until the day it closed down LITERALLY overnight, taking with it a significant monthly income for me – plus the valuable asset of my database of names. Of course due to some legal jiggery-pokery and tiny print, they weren't MY names, the owners of the now defunct company claimed ownership because it was their form that we had completed.
What made it worse is that some months later a phoenix online company started mailing the database under their own names about a similar product. I know this to be the case, because my family were amongst my database contacts and started getting emails about the new business that I had no connection with.
Bit of a digression – just how I learned the hard way to collect names by making squeeze pages of my own. In fact I'm now associated with a different affiliate program for a similar product and wouldn't it have been nice to have emailed my list of people who had already expressed interest in these products!
In fact most well-known marketers say that their "list" is the one asset they would need to start over if their business crashed.
Making Squeeze Pages – Getting Started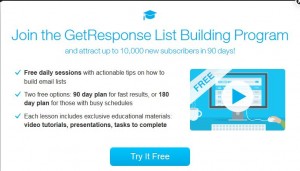 I have several tools that I can recommend to you for making squeeze pages (sometimes known as lead capture pages) but rather than suggest you spend extra money, I'd like you to look at the facilities available to you when you take a free trial of GetResponse HERE.
You'll love the variety of landing pages available to you for minimum effort. And if you do get stuck, their support chat is fast and helpful.
Will You Learn From My Mistake?
Hopefully my "sad story" of the lost database will have convinced you that it's worth the effort of finding a tool you like that will help you to start making squeeze pages.