I ceased writing for a blog with 2 million Facebook Fans following that sucker. Big time blog. Big time audience.
I cherished the opportunity but finally had to part ways based on my values. My integrity means more than anything. I need to be genuine in all I do and write. In essence, I spotted red flags a while back. The ideal blog reader seemed a bit too low energy for me from a victim-hood approach. Anyway, I felt the dissonance for a while. But one edit from a few weeks ago set off a red flag I noted and honored. I feel grateful for the opportunity but knew I had to let go the writing gig in order to not sell out on the way up.
Major media, blogs with massive readerships and serious levels of scale all test your integrity. Big audiences seem used to a watered down message. In addition, mainstream readerships or viewerships do not particularly enjoy being held completely responsible for their lives. I, on the other hand, only teach people to take full responsibility for their lives, from beginning to end. The editors for the big time blog asked me to edit a section where I advised readers to own everything, being fully responsible for their experience. I thanked them for the opportunity but told them I had to move on. Nothing personal.
Never sell out on the way up. I did not attach to the 2 million readers, blog name or branding opportunity. My integrity means more than anything else; I sleep well at night while succeeding because I am only honest with readers. I never lie just to conform to a brand voice. If I sold out, I would have edited the post to allow people to cede responsibility, making them victims. I respect the watered down, "general public friendly" voice for the blog and brand, but I never would offer such advice on my blog or anywhere else. I had to let go the writing gig. But not because of this single edit; I had noted victim-hood patterns on the blog for a while. Particularly, the Facebook Page published worrisome updates resonant with a lower energy crowd.
Popular bloggers, mainstream media and influential publications may come knocking at your door eventually. Stand firm. Keep your core values intact. Never compromise yourself for profit or to access a huge audience. Ultimately, being genuine makes the difference between success and failure. Honest bloggers keep succeeding by being truthful on the way up. Even though the brand voice changes from blog to blog where I guest post, I never pursue opportunities where I go against what I value. Doing this keeps my good name intact and solidifies my reputation.
Seize opportunities for growth but never at the cost of your reputation. Success is ultimately helping people generously and building genuine bonds with bloggers from your niche. No blogger needs major media coverage to be a multi millionaire. Build your own market. Grow your own massive following by patiently, persistently and generously serving bloggers in your niche.
For every non-resonant opportunity you release, 5 more resonant opportunities find you. Do not get attached to any name blog or brand, just because the site offers access to a huge, eye-poppingly large, readership. Never sell out. Never compromise yourself just to gain exposure in front of a big audience. Guess what? You want exposure in front of the *right* audience. Bloggers succeed by hyper targeting their campaigns.
Get Interviewed On Top Blogs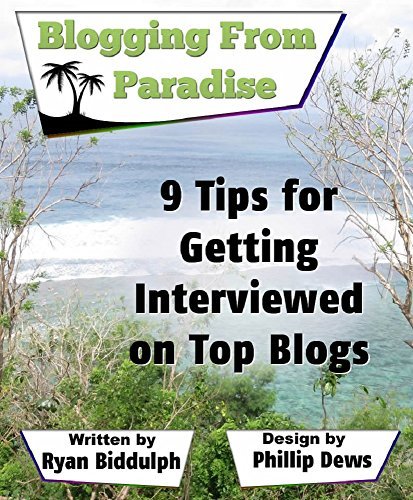 I never experienced a massive breakthrough after being featured on Forbes, Fox News, Entrepreneur and Virgin. But I did experience progressive success by blogging persistently for people who craved blogging tips, all because I was able to blog about what I most value, in genuine fashion, on these smaller scale, targeted blogs.
eBook
Do you want to land interviews on well read blogs? Buy my eBook: