Serious About Six Figures – Product Review
You may be seeing a lot of promotions around Nick James' 'Serious About Six Figures' training lately.
Perhaps you are wondering if this is any good and worth joining.
I'm going to give you my full unbiased review here, but the short version is… yes, it's definitely worth joining if you want to earn a six-figure-a-year (mostly) passive online income… or more!
The scholarship offer closed, but it's still a great deal. Check it out: Click Here [Affiliate Link]
First let me tell you a little about Nick James
I have been a Nick James fan for years, and still subscribe to one of his monthly services. I wouldn't be without it!
Also I have an earlier version of the book Nick is offering you here. I regularly refer to it for his wisdom and experience.
Nick has been making money online since 2001 and has won multiple awards including 'Internet Marketer of the Year' in 2016, and was crowned 'Super Affiliate of the Year 2020' by Infosoft 360 and 'Outrageous Marketer of the Year 2020' by the legendary direct marketer, Bill Glazer.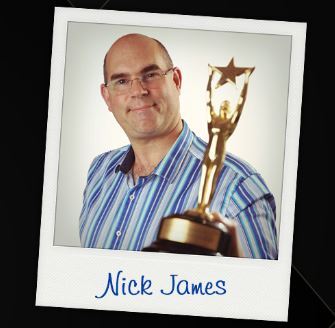 He has made multiple millions (it's somewhere in the region of $19,842,314.68 now) selling both physical and digital products online.
It's safe to say that Nick knows how to make a ton of money online, and that YOU can learn from him because he really knows his stuff.
In his 'Serious About Six Figures' monthly training, he will share all of his extensive wealth of knowledge with those who are serious about making a six-figure income of their own.
Reently, Nick generated $5,104.09 (a four figure income) within a day or two promoting a short eBook he created from an article he wrote… without using any paid traffic!
Say again?
He made over $5,000 selling an eBook that was created from an article, and he didn't spend a single penny on advertising.
If that is something you like the sound of and would love to do that for yourself, Nick shares everything that made his four-figure income possible within his 'Serious About Six Figures' monthly training.
A little about the 'Serious About Six Figures' monthly training.
Nick delivers a new module of training every two weeks. Each module is comprehensive, well-presented, and easy to understand and more importantly… is easy to implement.
What Nick shares is not just theory where you are told 'what to do'… these modules are blueprints which show you 'how to do what needs doing, and in the right order'.
Unlike other trainings that are available, Nick understands that people's chosen style of learning differs from person to person, and because of that, he delivers his monthly training in three media styles:
Video.
PDF eBook (my preferred format)
Audio.
Not only is this great for those who prefer to learn in a specific way, it also means that you can read the eBooks, watch the videos or listen to the audio at times that call for different media.
You may read the eBook while sitting on a train, and make notes if you print it out. You may decide to watch the video while relaxing at home, or you may chose to listen to the audio while out for a walk or a run.
Let's take a quick look inside Serious About Six Figures:
SASF-walk-through-video from Nick James on Vimeo.
Nick specializes in digital information products, and in the very first 'Serious About Six Figures' he will show you how to create multiple digital products, often in less than 72 hours.
In 'Serious About Six Figures', you will…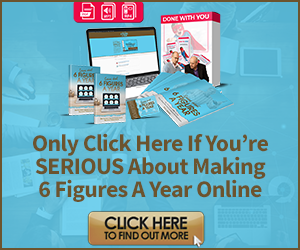 Discover how to cross-promote multiple digital products to the same customers to generate more sales meaning more profit for less work!
Discover how to take one of your digital products that you sell for $97 and sell it at a much higher price generating a quick $10,000 – $25,000 in 2 weeks or less.
Discover how to send thousands of potential customers to your products resulting in an avalanche of cash hitting your bank.
Discover how to quickly create content that turns readers into buyers.
You will also discover how to run your six-figure-a-year income producing empire on only ten hours per week.
Nick provides straightforward lessons here, there's no fluff or filler. It is straight to the point, factual and educational.
Even the emails he sends out between each module are packed with useful content that will help you to build your own six-figure empire.
The email takes you straight in where you can start to devour the newly released module. No fuss and no hassles logging in.
Vitally important – the content is delivered on time twice every month.
In the past, I have paid out a lot of money for monthly training only for the modules not to be delivered when they should have been. Maybe they hadn't finished creating the modules by the time of release date, this has never happened with Nick's 'Serious About Six Figures', or any of the other products I have bought from him.
All modules are released twice a month on the date specified so there is no waiting to get your teeth into them.
As part of the training, there is also a 'Done With You' blueprint which walks you through the whole process, from start to finish of building a complete sales funnel from building your website to putting your first product on an affiliate network ready to make sales using the methods outlined in the 'Serious About Six Figures' training.
The 'Done With You' blueprint comes with page templates which take away the headache of trying to build your own product sales pages from scratch.
In my opinion, that alone is worth the monthly subscription fee.
With Nick's guidance and the sales page templates, you will be able to build multiple sales funnels, all of which can make sales online at any time of the day and night generating you a passive income.
Limited offer …
Nick has kindly decided to waive the full $297 enrolment fee for the first 100 people who take up his free 1 month trial. But hurry – the timer is counting down:
He is looking for 100 people who are serious about building their own six-figure-a-year income to look over the first month's training module, at no cost to them whatsoever.
If that it is something that you would like, Click Here [Affiliate Link] to discover more.
What could be better?
As with all products, there is always a flaw which for me in 'Serious About Six Figures' is that there is no discussion forum or direct chat facility. It would be nice to chat with other SASF members or with Nick's team, but that's just me!
It would be better if the modules were available on demand, rather than having to wait for two weeks.
But at least that gives you plenty of time to implement and digest
In Conclusion
Finally, I just want to reiterate that Nick is a stand-up guy with a great reputation of overdelivering in his teachings and advice. I have dealt with Nick, and his wife Kate, for many years. You'll be in good hands
It's also worth noting that his 24/7 customer support is the best bar-none. If you should ever have an issue that you need help with, his support team will be on hand to deal with it fast.
Nick's 'Serious About Six Figures' gets two thumbs up from me and I highly recommend it for those who want to leave the day job and make their own six-figure-a-year-income instead.
Don't delay, check it out >> here << [Affiliate Link]