Update March 2016: Sadly this promotion is now over – but MyBlogU.com is still a great place to be.
Starting A New Blog?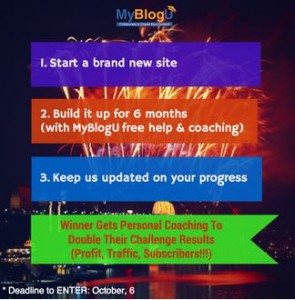 No – not me… YOU?
Perhaps you're still struggling to get that first blog setup and flying, but you somehow can't get started.
Sounds familiar?
Or perhaps you already have a blog, but you have a niggle of an idea for starting a new blog.
You could be embarking on a new venture and want to start a blog so that you can write about your progress and promote your new business – but the project has stalled. Maybe…..
You can't quite raise the motivation to get started
You're motivated but you haven't a clue how to start a blog
You started a new blog but hit problems right from the outset
If you recognize any of these problems, the article is for you, because I've heard about a contest / challenge that is being run by Content Marketing Consultant Ann Smarty (MyBlogU), for setting up a blog from scratch.
The contest is called "Start a New Site and Double Your Money Challenge".
Participants will be required to start a brand new site and build it for 6 months (with MyBlogUcommunity help and support!)
After 6 months results will be compared (traffic, subscribers, profit) to pick the winner.
The "Start A Blog" Contest Prize
The members are keen to share their expertise free to kick-start your blogging career with a new blog, so everyone's a winner really. However, when the winner is chosen, MyBlogU will be committed to work together to double his or her results! The are more prizes to be announced (at the time of writing) – see the entry page (below).
As well as being open to newcomers to blogging, this is an opportunity for many established bloggers to try to build a new site. The participants will be sharing the results regularly and learning from each other!
If this sounds like the "Just what the (Blog) doctor ordered, hurry over to register for the MyBlogU Start A New Site Contest. Registration closes 6th October 2015, but the sooner you register the longer you'll have to build your blog,.
Please help us by sharing this post with your list, and anyone you think might benefit from all the support that's available at MyBlogU.com.
What Is MyBlogU?
It's a revolutionary content marketing platform that supports writers and bloggers (new or experienced), giving the tools they need to accomplish their content marketing goals.This can be in the form of images, or content for your site.
So for instance if you need to write about an aspect of blogging that you have little knowledge of; you can post a request for other bloggers to share their tips and experience which will add value to your article by introducing different points of view.
Or perhaps you need a spectacular image as inspiration for a post, but you don't want to go to the expense of having one created – check out MyBlogU, where there are dozens you can choose from, for the "price" of a link back to the originator's site.
You can even add your profile and request free or paid writing assignments.
MyBlogu.com is the place to go for all of this, so whether you're an established blogger looking for help with content marketing, or you're interested in the "Start a Blog" contest, head over to MyBlogU.com.
Will you be joining the contest? Please let me know in the comments below.