Did you know that content marketing costs 62% less than traditional marketing, and generates three times as many leads? For that reason, blogging is a hot commodity in the business world. Having the best blogging toolkit can help.
Content marketing–like blogging–has become a fantastic way for people to make money from their online content. However, before you dive into the world of blogging and content marketing, it's essential to understand some of the key tools you can use to your advantage. From brainstorming tools to performance tracking software, we're giving you a rundown of seven blogging tools to use as you market your content.
For brainstorming:
Blog Name Generator
Arguably, one of the most important aspects of your online web content is your title. However, coming up with the perfect title can be a bit tedious and a bit frustrating. Luckily, this blog name generator can help the creative juices flow. Simply select your blog's category, use two keywords to describe it, and input your name to get a free, unique, and customized name for your blog.
For writing and note-taking:
Evernote
As you write your blog, it's important to have a place to take notes and keep your ideas organized. Evernote is an online organization tool that can be used to take notes, attach documents, scan images, add voice memos, and save web pages, articles, and PDFs. With Evernote's free plan, you'll have access to 25MB in note size, have a monthly upload limit of 60MB, and have the ability to clip web pages across two different devices. However, with the full paid plan, you'll be able to access Evernote offline as well as more storage space and larger note sizes.
To optimize your content:
Ahrefs
Ahrefs is an SEO tool that can help you optimize your web content through SEO, link tracking, keyword research, and other analytical aspects of your content. With the free version, you'll have access to many different SEO tools as well as a WordPress plug-in you can use as your build your website. However, with the paid package, you'll gain access to all that Ahrefs has to offer.
To create visual content:
Canva
When it comes to creating visual content on your site, look no further than Canva. Canva is an amazing tool for creating eye-catching content, animations, and other types of graphic design with ease. With so many pre-made templates for all different types of content, Canva is an amazing starting tool for novice content creators. While Canva has a fantastic free plan, you'll be able to gain access to more advanced tools and visuals through the Canva Pro plan.
To schedule and promote content:
Mailchimp
Email marketing is one of the most effective ways to promote your business. That's why it's extremely important to find a tool that can help you promote and schedule your content. Enter: Mailchimp. Mailchimp is an email marketing system that helps you automatically send scheduled emails, promote sign-ups for newsletters, and other systems that help you integrate your email marketing with social media. The best part is that Mailchimp's base-level, free plan alone allows you to save 2,000 contacts and send 10,000 monthly emails, and 2,000 daily emails.
To stay organized:
Trello
Trello is an tool that allows you to organize your projects into specific boards for more visual-based method of organization. Here, you can add sticky notes, photos, and other attachments onto your version of a virtual whiteboard. The best part about Trello is that it's highly collaborative. Meaning: you can add other users to your boards if you're planning on expanding your team!
To track your blog's performance:
Google Analytics
Finally, as a blogger, it's important to track and measure the performance of your content. Luckily, Google Analytics is a fantastic tool that lets you track and report website traffic. Along with this, you'll be able to see how audiences are interacting with your blog through comments, clicks, and other actions that can be taken. 
As you blog, it's important to take advantage of as many tools as possible. Whether they help you creatively or analytically, blogging tools can only benefit your content and–in turn–you! For more tips and blogging tools, pore over the infographic below, courtesy of WebsiteSetup.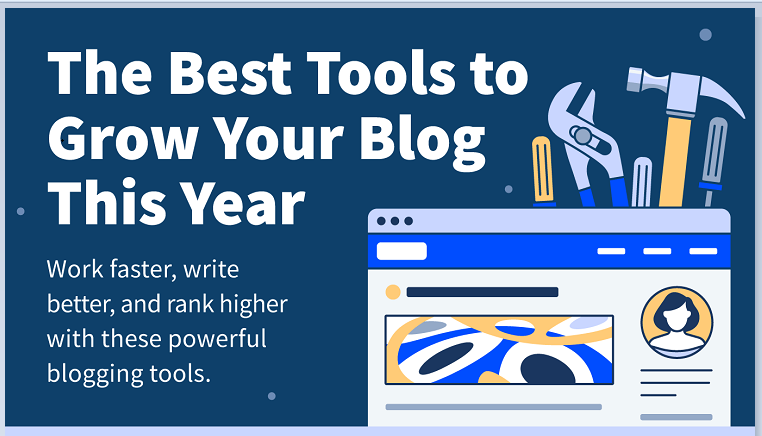 Share this Image On Your Site