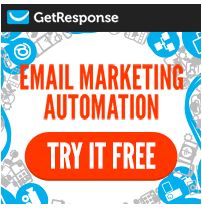 It's time to implement email segmentation more effectively in my business!
Regular readers will know that I'm a big advocate of email marketing in general, and GetResponse in particular. For quite a while now improving my current email strategy has been on my "to-do" list.
Then recently I read GetResponse's blog post about implementing email segmentation, and – together with a new requirement in my own business – I realized I wasn't using their segmentation facilities to anywhere near their best effect.
What Is Email Segmentation?
I'm sure most readers will be familiar with Market Segmentation: the concept of dividing your customers and prospects into different categories, or segments, such as age, sex, location, customer or prospect and then designing and implementing strategies to target them. Source: Wikipedia
I am referring to email segmentation as targeting these different segments with emails written specifically for that category of a business's overall list.
Different Levels Of Email Segmentation
I had already implemented email segmentation at its most basic by splitting "customers i.e. buyers" onto a different list from "prospects i.e. people who haven't yet made a purchase from me". But there are much more advanced ways to implement email segmentation.
The GetResponse article above takes the concept a whole lot further, because they define 5 stages of email segmentation. These go from:
"Batch and Blast" – no segmentation, everyone gets the same emails
Right through to "Predictive Modelling" – where you attempt to guess what subscribers want to know next
Read the post for full details of all the different levels.
Big Reason To Implement Email Segmentation
One of the levels is "Behavioral Segmentation", based on which subscribers clicked a link in an email. When you read the post you will see statistics of markedly improved results experienced by one large retailer when they implemented Behavioral Segmentation: segmenting list subscribers based on where they signed up (in this case online vs in-store signups).
How Email Segmentation improves your marketing results: http://blog.getresponse.com/how-to-get-started-with-email-segmentation.html
Click To Tweet
The detailed improvement in results was certainly enough to start me wondering how email segmentation could improve my tactics. Here's the first area I came up with – and I'll be looking for more.
Email Segmentation In My Business
We probably all realize that blogging is a way to reach a large cross-section of readers.
Some readers may be interested in your, or my, main business
Some readers will not be
Some will already be subscribers whose interest has been piqued by reading about the business in my regular blog posts
Some will be casual readers who found me by chance
I need to provide information relevant to all these groups of people.
For anyone interested in my main business, the first stage is that they will register for a free account to learn more – and from then on I want to target them differently to cultivate that interest and help them with the business they expressed interest in. I don't want to keep distracting them with other topics I write about.
If they do not want more information on my main business, they may be interested in other tools or topics that can help them in the business they are already promoting, or have yet to find.
Switching From Promoting To Teaching
So the level of segmentation I have just implemented is whether readers have opened a free account for my main business, or not. When general subscribers open a free account for that main business I switch them to a segmented list that talks them through getting started with it.
Instead of "promoting" to them – I now want to "teach". So I move them away from my promotional emails in the hopes that they will focus on the business exclusively.
There's quite a lot to take on board and it's easy to "lose" them if they get overwhelmed and they don't follow a specific sequence. It's easier for them, and for me, to have a pre-written training sequence I can just "slot team members into".
An added benefit of keeping these instructions in GetResponse emails is that people who join my team are welcome to copy them and send them to anyone THEY introduce.
For those people who found out about my business from a chance landing on my blog – without having read much about it previously – I now have targeted training emails I can invite them to, so they can read a structured series on how to get started.
Other Features Of GetResponse That Helped
GetResponse has some excellent tools that let you choose when emails will arrive into a subscriber's in-box, to maximize the chance of being read.
The emails I was sending to prospective members turned out to have a lot in common with the training emails – because they were going over similar information, but in more depth. However I didn't have to create a whole new series of emails, because when I click the "Actions" button to the right of the email's message name I can select "Re-use" from the pull-down menu then just rename the email to create a new version.
Support From GetResponse
While I was learning how to implement email segmentation I made a silly mistake and it didn't work immediately on my test. So I was able to tap into GetResponse's online support desk and within about ten minutes they spotted the stage I'd missed out, I had fixed my mistake and all was working fine. That beats the frustration of waiting the 24hrs that many other support desks need!
More Complex Ways To Implement Email Segmentation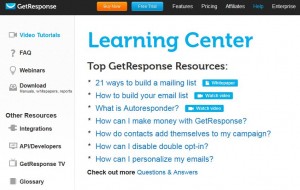 The example I've quoted for my own business was pretty basic.
The blog article that inspired this post gives some far more advanced strategies you can use for list segmentation; there are step by step instructions explaining exactly how to implement it.
You don't have to learn about email marketing by trial and error, you can follow GetResponse's free training guides. Also, within the blog post, you'll find an eBook that you can download, with no opt-in required, to learn more about how to implement email segmentation.
How Are You Segmenting Your Lists?
I'd love to hear any creative methods you have used to implement email segmentation in your own business. Please share in the comments below.