12
Last Call To Double Your Money
Updated June 2016: Sadly this promotion is now over, but MyBlogU is a great site to visit – and of course, I'd love you to read the rest of my post, or any of the related posts on the bottom.
Start A New Site And Double Your Money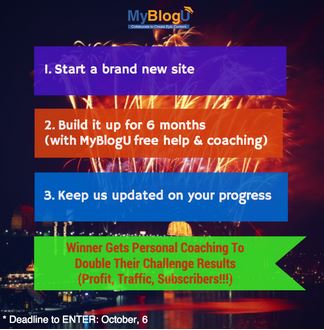 No, I haven't started promoting "Get Rich Quick" schemes. (If only there were such a thing… there isn't!)
This is just a reminder that 6th October 2015 is the last date to enter the MyBlogU Start a New Site contest where the winner (based on profit, traffic and subscribers) will get personal coaching to double their challenge results.
I wrote about this a little while ago and some readers started on it.
As we approach the deadline, remind yourself of this great opportunity to start that new site you've been meaning to start. Click here to learn more.
Also – if you'd like my free eBook / training  "Build a Blog – Build a Business" : click here for some extra free tips.
What's Kept Me Busy
It's no secret that much of my blogging for the last few weeks has been focused on Premier Cashback – the business that solves all the pitfalls of previous MLM businesses I failed in.
I wanted to get it all down here on my blog, so I could use it to show people information, rather than having to send the same info over and over again.
Here are the Premier Cashback posts, in case you missed any.
After the successful launch of Salustra, it's time to get started on long-term marketing, rather than time to take a rest, so I was lucky that my "holiday of a life-time" coincided with the few days following the launch (when the site was up and down as enhancements were brought online). Now I'm back and glad to say that everything is fully functional.
So what was I doing while the Premier Cashback and Salustra teams were working their socks off?
My Holiday
My journey started (after London) in Chicago, through Springfield IL, St Louis, Memphis and New Orleans then back home to London.
It was a wonderful holiday, packed with exciting venues – some that I knew nothing about before visiting, yet ended up totally fascinated: Abraham Lincoln Presidential Library and Museum and I fulfilled a life-long ambition to visit Sun Studio and Graceland.
In Chicago I marveled at some breath-taking views from the 94th floor of the John Hancock Tower.
What a wonderful holiday.
It would have been nice to catch up with some of my great USA blogging friends – but my tour was action-packed with barely a break between meals, and that's quite a big country you've got there!
After The Holiday

I'd no sooner returned home than my two grand-daughters (aged 1 and 3) came to stay and – gorgeous as they are – they're real handfuls of fun and love. I don't see a lot of them so I really notice the change, and the new words and skills they've learned.
Here they are shopping with their Uncle Matt (my other son).
All this is just to explain why I haven't been terribly active on my blog of late – but that's the best perk of being self-employed. I work when I want to work, and I holiday / do family things when I want to.
However…. all good things must come to an end and amazingly enough it's the end of the third quarter of 2015.
Where did that go? Have you fulfilled your goals for 2015?
First 9 Months Of 2015
Here are some of the goals I fulfilled in the first 9 months of 2015:
Found the perfect online business (Premier Cashback / Salustra)
Done some rudimentary landing pages and auto-responder mailings for Premier Cashback
Increased the income from my blog
Published 3 eBooks
Moved all my lists to GetResponse (you can take a free trial at that link)
Balanced the above with running my offline business and the usual family crises
Now that might not seem a lot to some of you, and in truth I wish I had accomplished more, but family must come first.
Last Quarter of 2015
The final quarter of any year is said to be the best time for generating home business interest. People are looking to replenish "bust holiday budgets" and "head on for the Christmas bonanza".
So this is the time of year for me to put the happy holidays and family breaks behind me and really get marketing.
Have you got your plans in place yet? I'd love to hear you what you have in your sights, so please comment below.