14
Free Drop Shipping Course Here – What Is Drop Shipping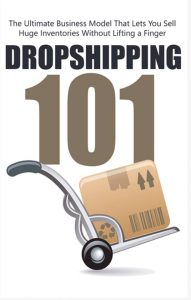 What Is Drop Shipping
Learn how to access a free drop shipping course here. (A decent course and support can cost you hundreds of dollars.)
In case you don't know, drop shipping is a way people can earn an income (part-time or full-time) by selling real products to real customers, and taking a profit, but without the risk and expense of having their own shop and buying stock in bulk.
Free drop-shipping training is also one of the benefits available when you open a free account with TPS (my e-commerce stores business).
How Does Drop Shipping Work?
(Apologies to those who are already successful drop-shippers, but stick around, you could benefit most of all from the free help TPS offers drop-shippers.)
Suppose you decide you'd like to start a risk-free business…. there are suppliers who will let online retailers promote their goods and when a customer places an order with you, instead of taking the item out of YOUR stock and posting it on, you ask the supplier to fulfil the order and send it direct to your customer. So….
Customer sends order to YOU —> You send order to supplier —–> Supplier ships to customer
(Say customer pays you $100) —–> You pay supplier (maybe $80) —–> Your profit is $20
Although you're selling an item you've never touched, $20 may not seem a lot of money to earn. But suppose that instead of listing ONE item, you announce that you have TEN in stock
You then have the chance to sell ten items for the same amount of work spent listing just one. And because the items are not in YOUR warehouse, NOT paid for before you sell them, there's no rush to sell them.
Start your online business drop-shipping as fast or as slowly as you have time for. Simply set yourself a daily schedule and stick to it.
Will you list 10 of one item every day, or will you list 10 batches of TEN items every day?
You can see how, very quickly, you can build an ever-increasing "virtual shop" of products waiting to be sold, bringing you a risk-free profit.
Advantages of Drop Shipping
Start your online business with minimal outlay because you don't:
Purchase and hold stock
Pay rent / storage space
Hire staff, with all the legal obligations that brings
Need marketing materials; a good supplier will help you out with product images and description
Disadvantages of Drop Shipping
You have to find customers…..well, yes, BUT this is a BUSINESS you're talking about starting. If you're not expecting to find customers, the brutal truth is you're not cut out to be in business. (But see our fail-safe section on "Being your own customer".)
You need somewhere to list your products. Maybe your own website / blog, or of course eBay / Amazon
You have to find suppliers who will offer you a good range of products AND look after you with reliable delivery systems. Depending on the type and number of products you want to sell, you may find yourself trying to negotiate with ten or more suppliers.
Suppose you have a "lean sales month" – how will you make your regular income?
Is drop-shipping starting to sound hard?
Finding Suppliers For Drop Shipping
You may have a product range in mind – in which case you need to:
Locate and contact a selection of suppliers
Decide which is the most profitable to deal with
Offer your services as a drop-shipper
Negotiate terms – possibly the most challenging…..
Before a supplier of good calibre is prepared to risk their good name with an unknown "shop" they may, or may not, want to check out your previous experience and take references. You may need to be approved for drop-shipping.
Because there's a certain amount of work for suppliers to do preparing sales material etc, unless you can show a proven track record, with many customers, they may negotiate tough terms, keeping your margins slim.
It's a balance of "who needs who the most"?
A corner shop may jump at the chance of you promoting their products online, but Walmart (for instance) may not feel the need to be so accommodating to a one-man-band's requests.
Drop Ship Suppliers Found For You
Imagine you had prior approval to access hundreds of suppliers, with over 2 million different products ready stocked for you to sell to your customers.
Imagine a professional team had already handled the negotiations of terms in advance – and been warmly received – because the negotiators had over a million potential customers to tease the supplier with. (TPS hit a million customers in early Feb 2017.)
Imagine the negotiations team were regularly sourcing new product ranges for you to sell
Imagine the sales process was handled for you by ONE reliable head office, with just one shopping cart procedure to follow for all suppliers
Imagine you could easily access products from household names, such as Macy's, Walmart and too many others to name
How many hours would you have saved in setting all that up?
Hundreds! So how much do you think that would be worth to you?
• $200 a month would maybe cover the cost of an hour of one negotiator's time?
• Maybe $100 a month to reflect the increased profitability the negotiator has been able to for YOU as one of over a million potential drop-shippers?
What if I told you that all that is available to you FREE, through TPS?
Although you get access to pages and pages of products in your free TPS store, there's even more for upgraded members. Here are some of the USA affiliate stores available to upgraded members.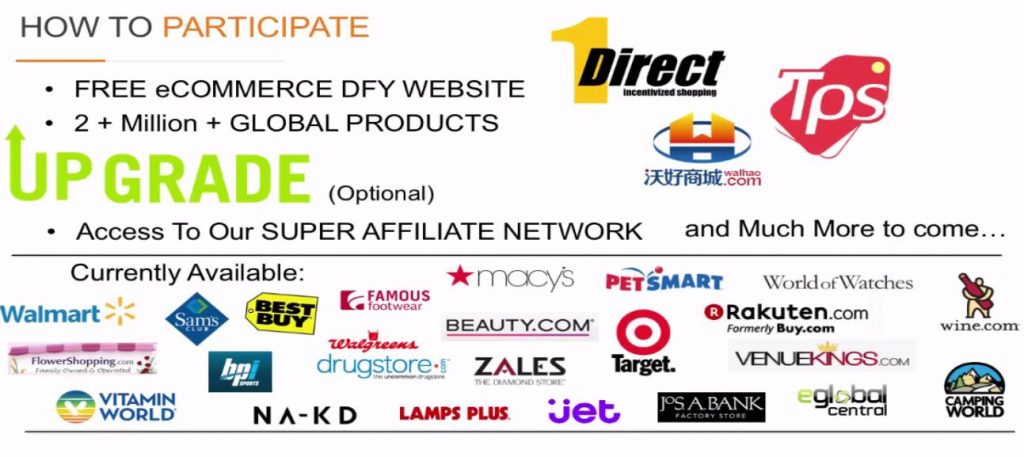 UPDATE Feb 6th 2017: Alibaba and AliExpress are new affiliate partners on TPS – opening up a huge number of extra products.
What Can You Expect To Earn As A Drop Shipper?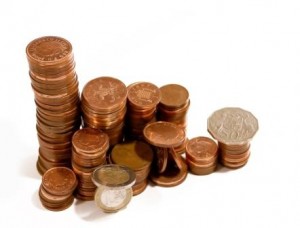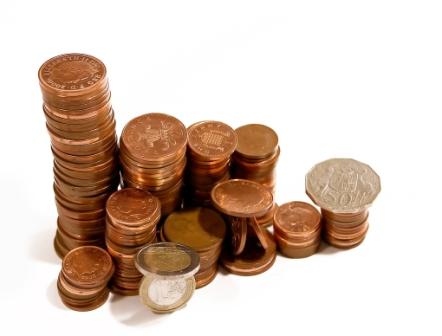 That's impossible to predict…. But here are some hypothetical figures.
Suppose in one week you listed 50 items each clearing you $10, that's $500 if you sell them all.
Listing 5 different products (one per day) selling 10 of each is an achievable part-time goal when you know the most efficient way to do it.
Remember – once they're listed, you can just sell them over again.
On the down side, if you only listed one item and cleared $10 profit, you're going to be pretty disappointed. See "Retail Is Unpredictable" below.
I don't know which you will do, or what you will do – so I can't predict your drop-shopping income.
With ANY online business, rewards do not come without sales / purchases.
Retail Is Unpredictable – What If I Have A Lean Month?
As we saw above, income from drop-shipping is unpredictable.
Or… thinking more positively, what if you want a holiday from drop-shipping?  To spend your profits!
We've got you covered when you drop-ship with TPS …..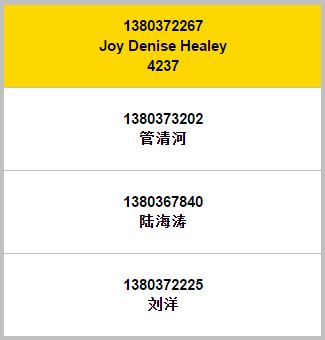 OPTIONAL: Members who make a $250 one-off commitment and a low monthly sales figure ($50) can benefit from a share of the company's profits AND the profits of an ever increasing team of co-workers allocated to each member, just as a "perk" for being a "working" member.
We call this "perk" team our 138 matrix …. Because every 138th member after you will go into your "perk" (138) team.
That's the number of members the company placed in my team in just 3 months. (A few every day.)
The "characters" are because these happen to be Chinese customers. I've never met / spoken to them, yet I get paid daily when this many members make sales on their e-commerce stores.
You'll see your 138 team growing daily. Many of these are upgraded members who are taking their business very seriously and making good monthly sales.
You can easily qualify to share in their profits, and in time, this income could provide a steady backbone in case of a lean month drop-shipping, sickness or holidays. (Or when you're ready to retire.)
No-one can predict how much you will earn, because it depends on how many sales are made by YOU and by other people.
I have been earning daily for 3 months now (for the first time EVER in an online business) but my earnings aren't completely typical – because I upgraded and did some work!
Don't complain about low rewards from the work you didn't do!
Click To Tweet
Being Your Own Customer
As a fall-back position, if you don't make any drop-shipping sales of your own you can be your own customer – making purchases of products you would have bought anyway.
The cost of my purchases is covered by my commissions, so I'm making a profit – which means my products are effectively free.
This purchase (typically $50 any month you want to make it) will qualify you for the company sales pools and the 138 bonus, but it's NOT compulsory.
Customer Retention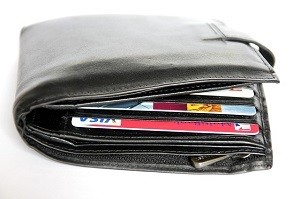 You're probably aware that one of the challenges of running your own online business is keeping customers once you've found them. The typical customer (including me) is more loyal to their wallet than to any regular supplier.
If you don't retain a customer purchasing regularly, you need a method of replacing them with new ones, or your business will shrink.
To maintain a steady supply of purchases from each customer you can either use the usual customer incentive methods, like special offers, newsletters etc ….
Or….   Simply give them their own free store, tell them to make purchases there and they'll get paid a share of the profits.
You'll still make a profit on their purchases, you just won't make as much profit as when they were a direct customer. But you will have less involvement, freeing up your time for building your business or enjoying the fruits of your labour.
Your customer will have their own free store to purchase from, and maybe find new items.
Drop Shipping Sounds Easy, What's The Catch…?
Above, you have very basic information on drop-shipping to go off and start up by yourself, learning by your own mistakes.
OR…..
You can invest in a drop-ship training course (the price and quality vary enormously)
OR….
You can
• Open a free account with TPS (The Perfect Solution),
• Gain access to our free drop shipping course,
• AND join a free "members only" Secret Facebook group where you can learn advanced drop-shipping techniques from very experienced drop-shippers already running successful businesses.
Why Drop Ship Through TPS?
With 2 million products to choose from, there's plenty of scope for everyone to be selling different products.
Because TPS drop-shippers are benefitting from a share of the company's profits, everyone profits from the company's overall success, so everyone has a vested interest in co-operating, to boost global turnover.
Start With A TPS Free Account
You have nothing to lose other than a little time to register your free store and go through the TPS free drop shipping course.
It's completely risk-free, keep your credit card firmly in your pocket. You could work through the free dropship course, implement what you learn and never come back again 🙂
Just three steps to access the free drop-ship training:
1) Learn how to open your free account with our company by watching these videos: http://vipglobal.web.rackdot.com/initial-steps   (Enrol link below.)
2) The enrol link referred to in the video above here is: http://tonyt.tps138.com/enroll
3) For access to our free training resources, contact Tony Trapani on Facebook
TPS is growing like crazy for me, so I'm referring you to one of my team leaders: Tony Trapani.
Please tell him Joy sent you, and ask him to show you the free drop shipping course inside TPS.