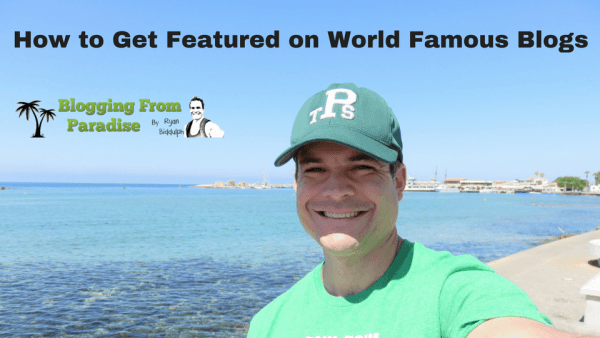 Ryan Biddulph asks: "Have you enrolled in my blogging course?"
How to Get Featured on World Famous Blogs Course
I help you land features on top blogs without pitching anyone. This is a fun, value-packed course filled with proven strategies to increase your traffic and business through world-renowned features.
I also changed the pricing to a month to month subscription model; just $20 a month for an affordable enrollment.
I regularly get emailed pitches by people who want to get featured on Blogging From Paradise. 95% never get featured on my blog. Why? 5% build a friendship with me by helping me and asking for nothing while 95% come in cold, as strangers, never doing anything for me to earn my trust. You need to earn an established blogger's trust before you ask anything of them.
Have you helped a blogger without asking for anything? Have you expressed a genuine interest in a pro blogger instead of trying to get them to do something for you? Don't you understand that top bloggers get thousands of cold pitches and tune out these stranger-danger, manipulative pleas?
Give and Expect Nothing
One principle I teach in the course centers on building up your blog so contributors from top blogs pitch you. If you generously create content and help top bloggers persistently without asking for anything, expecting nothing, you befriend these pros. Why? You stand out from the masses of manipulative bloggers who just want to get something from you. Kind, generous, genuine people seem rare in blogging so top bloggers gravitate toward these folks, appreciating their generous nature.
I remember my customers, clients and loyal readers. Each person who reaches out to me generously tends to become my friend. I also freely promote these skilled folks because I am happy to help them out since they have something valuable to offer and helped me out. Generous people earn my trust. I happily share their value with my readers.
Retweet top bloggers. Endorse top bloggers. Mention established bloggers on your blog. Comment genuinely on their blog. Buy their eBooks. Buy their courses. If you enroll in my course above, send me an email. Let me know. I will appreciate you and our bond can deepen. The split second you buy one of my eBooks or enroll in my course you instantly stand out from the thousands of bloggers who ask to get featured on my blog without doing anything to earn my trust. It takes a few seconds and $7, $20, $20 monthly or $350 to stand out from thousands of bloggers. It's such a no-brainer to me.
I email top bloggers whenever I buy their stuff; a few seconds, some money and a quick email lays the foundation for a powerful friendship.
Help top bloggers. Ask for nothing. Expect nothing. Allow bonds to form organically. In some cases, if you practice writing and create valuable content, a top blogger will feature you without you even asking them for the feature. A New York Times best selling author tweeted my first 2 eBooks based on the friendship we formed. Why did we become friends? I patiently retweeted his posts and genuinely commented on his blog for months. Of course a friendship would form. Factor in my crisp, clear writing and I didn't even ask the guy to promote me. He just did it.
Such is the power of generous service.
If you want to get featured on popular blogs, help pro bloggers, expect nothing, improve your writing skills and top blog features will flow your way.