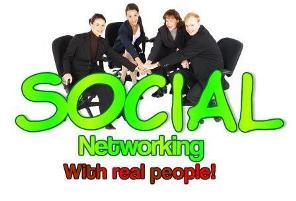 I think this must be two weeks posting in one – as it seems a while since I wrote here, but for the best of reasons. I have been extremely busy with paid work that had a deadline to be met. So diverting onto that has meant that there hasn't been an awful lot to write about here.
I managed a short "holding" post on my main business blog, but even that brings me onto a discussion point, about frequency of posting to that main blog (in the complementary health market-place).
Networking With Real People
I had set myself a goal to post once a week, and (until last week's blip) that was fine. However, last weekend my complementary therapists' group had a meeting. Real people talking to each other in a room!! What do you think about that? Scary LOL.
The main speaker was the regional co-ordinator, giving us help and advice on marketing our businesses. She is also a practitioner and is fully booked with a waiting list, so it stands to reason that she knows what she's doing.
I asked her how often she updated her blog (to be sent as a post to people on her "list") and she advised me that she finds once a month to be quite sufficient for her blog, and to supplement that with a newsletter once a month too. This would mean that my clients and prospects would hear from me twice a month and she suggested that was on the high side for my market-place!
Obviously that's probably different in the Internet Marketing field  in which many readers of this blog operate, but I'm feeling it may also work better for me "the person" to reduce my blog posting, especially over the next couple of months when I have a serious glut of "paid work" to do.
I need to balance that against the fact that I have MANY topics I want to write about, so I'm planning to cut down my health blog from weekly to fortnightly and use the spare time generated to send a monthly newsletter.
I've been in total personal melt-down this last week with the pressure of getting the first stage of my paid work out on time, and something has to give.
Auto-responder Problems
Part of my stress has been caused by problems with my auto-responder – not in my "good books" at all this month. I have had three separate and increasingly tight-lipped exchanges with their support desk about three different problems I experienced using particular features of this auto-responder and not one of them has been resolved to my satisfaction.
It would only serve to increase my stress levels again to attempt to go through the details of the problems, so I won't. But what really irritated me (each time!) was their failure to read my support requests properly, delaying the final "lack of answer" by a day as they came back to me for information already in my questions.
Most infuriating of all was their apparent assumption that I was an idiot and just setting up my first campaign.  I spent a large part of my career on a software support desk and as a software tester, so, if I can blow my own trumpet, I'm pretty good at putting together an explanation / diagnosis of software problems.
I'm actually so angry about the last two weeks of wasted time and energy that I wondered whether to cut my losses and change to another supplier. However, it has taken me an enormous amount of time to get my web-forms and auto-responder messages set up, so I imagine I shall have to take a deep breath and just accept what I believe has been poor service and work within the limitations and bugs that I have identified.
While it might give me a temporary satisfaction to vote with my feet, I suspect it would set me back a few weeks to start the learning curve with a new supplier. That time will be better spent adding new content to the blog, auto-responder, and working on increasing my traffic.
Let me move onto happier things!
The Fanpage Challenge
The FanPage challenge has seen me cross the 200 mark over these last few days, so – at the time of writing I have 206 fans on my Minerals For The Body page. I'm really delighted with this, and with the relationships made for finding and sharing relevant content.
One of the other benefits of the challenge has been that I have been learning about the Logo Creator software to create my own images – something I'd never mastered in the past. This week I took the plunge, bought the product and I recommend it to you (affiliate banner below).

I had a little blip installing the add-on I purchased with the main package, but in contrast with my Auto-responder support people, I got an out-of-hours reply from Logo Creator, my problem was fixed within minutes, and the image you see at the top of this post is my first attempt (ever!) at creating my own image. It had to be done in a rush (for other commitments) so it probably doesn't measure up to standards of many people, but it's my first-born baby and I'm proud of it 🙂
The Bench!
Regular readers of this blog will no doubt have been on the edge of their seats (benches!) to see if I finished painting my garden bench.
So – here it is, in all its glory. Not being a DIY person at all, t took me more hours than I dare think about, but it's another project I'm pleased with. Sorry it's still on cardboard, it was too heavy to move by myself. I had to wait for help. But rain was threatening and I wanted to take the picture before the heavens opened.