As part of my simplification process I want to save money on hosting. I have more domains than I care to confess to, and when I first started with Internet Marketing I thought that I needed separate hosting for each one. As the number of different sites I controlled expanded, obviously this started to get expensive, so I wondered what could be done?
Update October 2019
With the benefit of more years of experience, hosting was NOT something I should have been saving money on!
Cheap hosting proved to be an expensive mistake to me as a newbie, and eventually my sites on shared hosting (not even sure which provider) were so badly hacked that I lost some of them.
After that experience I moved – above 4 years ago – to Pressidium, and have been with them since then and never a hint of trouble. Highly recommended.
However, for anyone interested in add-on domains for any other reason than to save money, I will leave this post here.
Save money on hosting
I learned that I could access several add-on domains via one main domain and thereby have one hosting account that "held" several different sites. (This feature isn't available with all hosting accounts, so if you're starting a new account it would pay you to check that your new company will offer it.)
First you need your Nameservers pointed to your new hosting account, which is done where you registered your domain name. Click here to read about changing nameservers.
Then you log into your hosting control panel (cpanel) and scroll down to the section labelled Domains and you'll see an icon labelled Addon domains. Click on that and you'll be taken to a screen something like the one below: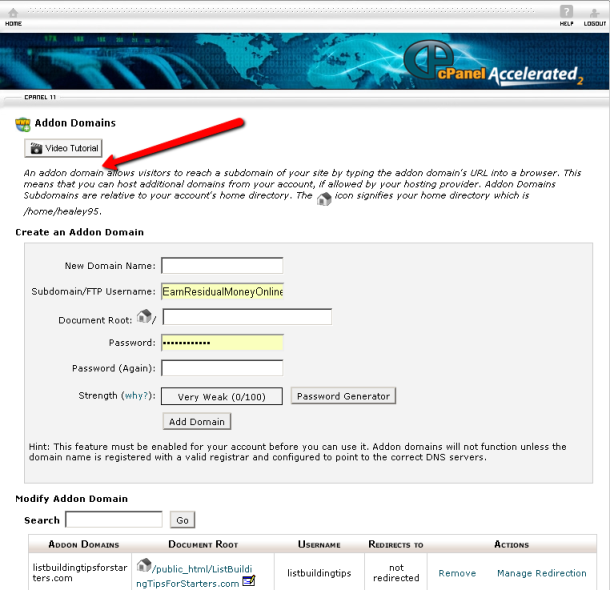 In the section at the top to "Create an Addon Domain" enter your domain name into the "New domain name" box, (e.g. xxxxxxxx.com). The next two items will probably be pre-populated for you, but if not into the "Subdomain/FTP Username" I prefer to enter the username "xxxxxxxx" where "xxxxxxxx" is the domain name you want to place in the addon domain, and the Document Root will be of the form "public_html/xxxxxxxx".
You'll need a strong password – I tend to use the same password as for my main hosting, but it would be more secure to have a different one. Then click the Add Domain button and your new domain should appear in the section below where you can modify your addon domains.
The purpose of this post is just to bring to your attention that you can save money on hosting and don't need separate hosting for every domain you control, so this is very much a layman's tutorial. You'll see that in the Control Panel (cpanel) I use, there's a video tutorial to give you better information. Also your hosting company will be able to help with support if you run into problems.
Here's Hostgator's video to show you in more detail:
From this you might infer that you can put all the sites you own onto one domain, but while your hosting company may claim that you can have unlimited hosting in your account, there will almost certainly be a limit, unless you are paying hundreds of dollars per month.
For example, suppose you have several large WordPress blogs with many posts and images; in time you're almost certain to hit a hosting company limit. Until then, why pay for more hosting than you need?
However if you have small HTML websites with just a few pages, you may be able to save money on hosting using this approach. I will emphasise that I'm not an expert on hosting accounts. Experts – feel free to add your comments, they are most welcome!
If reading this post has raised questions in your mind as to whether your could save money on hosting it's worth checking with your hosting company if this could be a way forward for you.