An autoresponder that pays you commission – month after month – is one of the most sensible online businesses to have. Quite apart from the monthly commission, here are some other reasons:
Every serious online business – whatever their target market-place – needs an auto-responder. Which means that you don't just have to target the (very competitive) 'Make Money Online' brigade as your customers.
Because an autoresponder is such an essential tool, once your client has found software they're happy with, they're unlikely to change – unless their monthly cost gets out-of-hand as their subscriber base increases.
What Is An Autoresponder, Do You Need One?
Rather than repeat myself, if you don't know, please check out my article on email marketing services here. I wrote it originally in 2015 – but in the 6 years since then, my experience and understanding has grown.
So I have attempted to keep it up-to-date, and you will see my regular updates.
How My Auto-Responder Experience Has Grown
In summary…
In 2015, I had finally accepted that what everyone was telling me – that an auto-responder is an essential business tool for any serious business. Maybe in 2015, offline businesses didn't have the online presence that they now. But in 2021, I'm on more people's email lists than I care to be on. EVERYONE is emailing me now.
Back in 2015, I still grudgingly saw my auto-responder as an expense, that would just cost more and more, the bigger my list grew. And looking at the costs of some of the market leaders, they were scary. In my summary below I haven't included the more expensive ones. I'm just keeping the scope of this article to the prices that a fairly small business would consider acceptable. About $20 a month or lower (at the time of writing).
I now realise that $20 (or less) per month is just a business overhead that any business (online or offline) needs. Compared to the overheads of offline businesses (staff, rent etc) it's trivial.
In 2021, I have had the happy experience that one of the first auto-responders I used has changed from being an expense into a profit centre, paying me a monthly income. That's nice. It's GetResponse, in case you're interested, and it's an excellent tool.
Over those 6 years I have accumulated more auto-responder accounts than I am happy about, to be honest. I'd quite like to prune them; some I already have pruned) – but they're all serving a different purpose and I can't quite bring myself to ditch the survivors. Which just shows the 'stickability' of an auto-responder as a service that you may consider marketing.
When your customer is happy with it, they're reluctant to go through the hassle of changing.
Here's my summary of affordable auto-responders that pay you. (Some of these are affiliate links, so I may earn a commission if you use my link, but at no extra cost to you.)
But first, you need to decide…
What Do YOU Want From An Auto-responder?
You might decide, like I did, that having an autoresponder as one of your main affiliate programs is a smart, recession proof second income stream. Ditching their auto-responder (and mailing list) is one of the last things any marketer would do, and even moving to another service is unlikely. See below to learn more.
But if you want your autoresponder software purely for the purpose of delivering mail at the lowest possible cost, consider these, most of which I have used.
A Free Autoresponder?
Be careful of anything online that's free. You first need to ask yourself:
If it's free how is the service paid for?
How are customer support and product development paid for?
What's the incentive to keep the owner running a free program?
It doesn't take a genius to figure out that at some point in the future – when you're hooked into their platform – there's going to be an upgrade cost. It's obvious really, but just don't gloss over the cost of the upgrades because the front end is free.
Here are 3 well-known free email services for start-ups, and comparisons of the monthly cost for 10,000 subscribers as at October 2021. (You can usually reduce your monthly cost by paying for a year at a time):
Three market-leaders for small businesses
SendInBlue – I've heard good things about this, but I've never tried it. The pricing structure is slightly unusual. The free package lets you send 300 emails a day to unlimited contacts. I'm not 100% sure how this would work if you had 400 subscribers!

10,000 EMAILS (not subscribers) would cost you $37 a month (with an addon).

Aweber – take a free trial. One of the market leaders, excellent support. But beware of price increases – as the size of your list increases, so does your monthly cost. It may be that you're so successful by then that you don't care, but check out the pricing.

10,000 subscribers would cost you $50 a month.

GetResponse – take a free trial. Same as for Aweber. There may be slightly different features, but as these two appear to play catch-up with each other you'd be safest to take a free trial of both and see which you prefer. Note – although I am still earning from the free GetResponse affiliate program, I'm no longer using it as my main mailer. There was no fault in it that stopped me using it, but I had more complicated emails already set up in Aweber so I stayed with that.

10,000 GetResponse subscribers would cost you $50 a month.
An Autoresponder That Pays You, With Unlimited Mailings
Excellent as all the other services are, in my opinion, the best value of them all – especially as a sideline income stream – is TrafficWave (take a free trial here).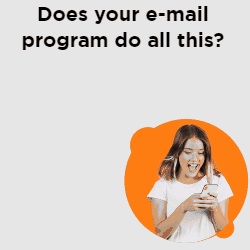 While other email marketing software increase their charges as your list grows, TrafficWave is always the same low monthly cost for unlimited mailings – so 10,000 subscribers still costs just $17.95 a month
They start you off with industry specific promotional pages – e.g. Coaches
The unique TrafficWave pay plan lets you earn in 4 different ways, down 10 levels of commission
TrafficWave.net uses a 3 wide x 10 deep Matrix structure for paying out commission. This means you can have 3 sales in your first level, 9 sales on your second level, 27 sales on your third level, and so on through ten full levels. If your introducer brings in 4 personal sales, the 4th will fall somewhere in their matrix – potentially earning you a commission.
TrafficWave has been online since the year 2000, and I'm frustrated to admit that I had a membership before I really appreciated the value of their services and compensation plan. If I had stayed with TrafficWave, instead of moving to what I shortsightedly looked on as a 'cheaper' service, their matrix compensation plan could mean that I had a much healthier income than I receive from GetResponse.
Any affiliate marketer would do well to have TrafficWave as a backup (or main!) business in your portfolio.