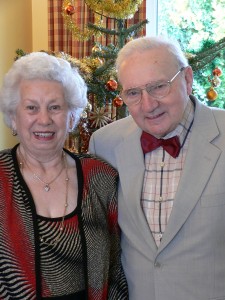 Today is Father's Day, so a sentimental post from me.  I hope all families will be spending time together, and not on the computer!
Both my parents are very special and wonderful people, but I think often there is that slightly closer bond between a Dad and his daughter.
My work ethic, and enjoyment of work, is down to both my parents. Dad in particular.
I was brought up in the family business and hard work was just the way life was. We had a post-office, newsagency, confectionery and fancy-goods shop on the sea-front of a Northern sea-side town called Bridlington. It was quiet during the winter months, but in the summer it was all hands to the deck.
The Daily Routine of Our Business
By "quiet" I mean that my Dad's working day was "only" 6am (when he took in the newspapers for delivery) to 6pm (when he closed after the "home from work" trade).
Things hotted up in the summer months when the town was teaming with visitors. Our shop was right opposite the Spa Theatre and Ballroom, so their customers needed somewhere to buy their sweets on the way in, and their ciggies on the way out. And we were more than willing to provide that service. So the working day extended from 6am until 10pm.
Sometimes longer if we were trying to out-do the competitor down the road. He stood no chance against my Dad and me. We were a formidable team and wouldn't give in, sometimes slogging it out until 10:30pm just because we wouldn't close before him. Once the shop closed we would take the dog for a walk, chat over the events of the day and paddle in the sea to bathe our aching feet.
Career Progression in Our Business
By the age of about five I was old enough "join the family business" and my job was counting pennies and putting them into piles of 12 (in those days) ready for banking.
As soon as I was old enough to see over the counter, I was taught how to "serve" the customers. A word that seems to have dropped out of modern retail ethic. Sometimes my Dad would interrupt his breakfast to deliver a 3p newspaper that had been lost in transit.
Soon I progressed to being in charge of my own department – stock control and ordering for the ice-cream fridge and the candy-floss machine. The former was a great success, the latter a failure – the spun sugar flew all over the shop and it had to go 🙁
The height of pride (for me and my parents) was when I was able to "balance" the post-office at the end of each week. This meant accounting to the penny – and I do mean to the penny – for all the transactions through the week. I forget the sums involved but that was a busy post-office with pensioners and Mums queuing to the door to collect their weekly allowances. "Balancing" was the job of the sub-postmaster or the most senior assistant. But by the age of 12 I was trusted to do it unsupervised.
Sounds a Bit Grim?
If this sounds like a boring and "slavery-like" existence for a child and teenager, there's nothing further from the truth. I remember those days as the happiest of my life. It was fun learning about competition, hard graft and team work.
The rewards were good – in those days my parents were earning more than the Prime Minister and in the winter we lived a high old life, with the best cars in the street. I learned to drive in a Jaguar, which perhaps wasn't one of my Dad's better decisions, but we had a laugh as it had to be hauled out of a ditch and he said "For goodness sake don't tell your Mum". (In case you wonder where Mum was in all this Father-Daughter team-work, she was busy bringing up my younger sister.)
My Parents' Sacrifice
When I left school it would have been so easy for my parents to welcome me into the shop as a ready-trained full-time manager and put their feet up. Which is what I begged them to do.
But they were far-sighted enough to notice the first supermarkets starting to stock newspapers, cigarettes and all their staple goods. They realized that the day of the small retailer was over, and insisted I got a career of my own.
Was It All Worth It?
The work ethic and ambition I learned from the sheer enjoyment of my early years has stayed with me for the rest of my life. Although very different from working in the shop, I love what I do and do my best to "serve" all my customers in the way I learned from my parents. They made me what I am and I thank them for it. They taught me how to make your business fun as well as profitable. Taking pleasure from successes and rising above the inevitable failures.
And now….
I'm off to ring my Dad for Father's Day.