I have never tried playing online solitaire games (or other online mind games) feeling I'm too busy and don't have the time to spare. Perhaps you're an online games enthusiast? Or perhaps you like me, have laughed at the many people who do play online games, and persist in sending invitations to play games. I have always rejected these out of hand, with the suspicion that it would be boring.
But although retirement seems a long way off for me, there's the sneaking thought lurking that keeping my mind active is good to prevent Alzheimer's disease, and playing online mind games could help. So I decided to do a little research (including playing a few games – see my experiences below) …
Scientific studies have found mixed results, but many experts do recommend brain games. "While some studies show that brain training games are not effective, the recollection and work that the brain does during these games keeps your mind fresh and alert," Avena says, adding that while anybody can benefit from them, they're most beneficial for older adults because they have declining cognitive function. As a result, "the brain functions that you practice during these games—and the repetition of them—can help improve response time and sharpness of your brain."  Source acknowledged with thanks.
And, thanks to WebMd for the following…
Experts think the extra mental activity from education may protect the brain by strengthening connections between its cells. Neither education nor brain exercises are a sure way to prevent Alzheimer's. But they may help delay symptoms and keep the mind working better for longer.
As with preparing to supplement your retirement income – it's never too early, or too late, to make a start on keeping your brain healthy. So even my younger readers should take note about the research that playing mind games may help keep your brain active.
But…..
I Don't Play Online Games…
OK, as mentioned above, I've always felt that my online and offline work keeps my mind pretty active so I didn't have the need – or more importantly – the time to play online games.
Then, over the long Platinum Jubilee weekend celebrated in June 2022 in the United Kingdom, while most normal people were out enjoying themselves, I was in catch-up mode after my holiday away – must write about that some time! (In case anyone thinks I'm anti-royal, I'm not, and attended a couple of local events, but there's only so much TV I can watch in one sitting.)
So – there I was with a spare day that I'd dedicated to trying out some new software, and Boom! I hit a problem and had to contact my VA for help. She replied promptly enough but said she wasn't working today and would get back to me 'soon'. It sounded promising enough that I'd just wait an hour or so for a reply, so I looked round for a quick time-filler.
I have a friend who loves playing online Solitaire and spends ages doing it, so I decided I'd see what the appeal was, and found the site Solitaire.org which offered card and mind video games and decided to have a browse.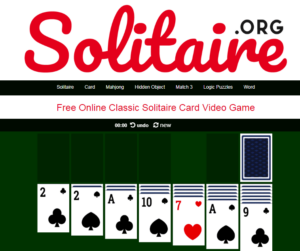 Playing Online Solitaire
My initial impression was relief that, as well as being a free place to play games, this is an ad-free site so I wasn't irritated by adverts popping up all over the place.
Second impression was that I found the music very distracting during games, but that was easy enough to turn off.
Speed – my computer is pretty ancient, so I did wonder if the experience would be 'laggy'. No need to have worried. The site ran smoothly and it was certainly faster than I needed it to be for me.
After a few minutes of familiarization I was captivated and enjoyed the next hour or so – to the extent that I forgot about my VA not getting back to me. A day later she STILL hasn't, so it occurred to me to get slightly into the UK Platinum Jubilee holiday mood by doing a very different blog post, to see if I can understand why people spend time playing online games.
Although my initial intention was to be playing online Solitaire, I was completely stunned when I saw how many versions of different solitaire games were listed. To give you a clue, I stopped scrolling and counting at fifty! They included Halloween solitaire, Christmas solitaire, Golf solitaire, plus Solitaire games of regional variations and for many different occasions.
Confession – I really was going to play solitaire but when I saw how many different versions there are available, I chickened out and didn't actually play that in case I picked one that wasn't familiar to me.  However, if you do a enjoy playing online solitaire, but you're feeling a little bored with your current game and looking for a new challenge, this is certainly the site for you. I defy you not to find a new version of solitaire game here.
What Other Online Mind Games Were There?
Exploring further there were many other types of online mind games available:
Word Games
Card Games
Mahjong
Hidden Object
Match 3
Air Traffic Control Video Games – let's just say, lucky my childhood ambittions to work in ATC didn't come to fruition!
Logic Puzzles / Games – which included Battleships, Chess, Minesweeper, Nonograms, Sokoban, Sudoku and Tetra Blocks
When I saw the familiar Tetra Blocks it triggered a little nostalgia so decided to ….
Play Tetra-Block Online Free

Playing Tetra-Block reminded me of my younger days when computer games first came out. My ex and I invited friends round for dinner and while we were finishing preparations, we suggested our guests spend a few minutes playing a game on our computer. They were very disparaging about how boring it would be, but agreed to have a go – it was that or come and help in the kitchen. Suffice it to say that they were totally hooked – and about 2am they were still playing and we had to politely suggest they leave!
I've never been particularly good at hand-eye co-ordination and my first attempt playing Tetra Block left me with a zero score and the friendly results robot shaking his head in disgust at my attempt.
Undeterred I had a few more games and I was improving, but expert Tetra Block players would laugh at my attempts. Fortunately it's not compulsory to publish your scores online, so I can keep my embarrassment private.
Nevertheless it was good fun, and people who are better Tetra Block players than I am can move up the levels as their skills improve.
With so many different choices, there's a game for everyone on the site so I decided to explore something more in line with my talents and interests.
As a blogger I have something of an affinity to words – so I headed over to the Words section of the site and found….
Free Online Word Search
I enjoy word searches when my grand-daughters visit (because I'm usually pretty good at them) so I decided this was a great place to move onto, and – once I'd realized you click and drag to mark the words – I really enjoyed playing it.
You have the choice of a grid 12×12, 14×14 or 16×16 and I went for the 12 x 12. I'm a little depressed by how long it took me to complete the smallest grid, but nevertheless, it was great satisfaction when I finally did it.
One slight frustration was that all the words to be found don't appear at the same time. Ten appear at onces, reducing as you find words so you might spot a word on the grid, but it turns out not to be an answer. You can't select it unless it's correct, but it would be good to see them all at once. On the other hand, it increases the challenge.
There's a daily word search game, so this will encourage me to have another go. I actually went back the second day and completed the challenge a little faster than shown here, but lots more practice needed.
Then I moved onto….
Free Online Letter Scramble Game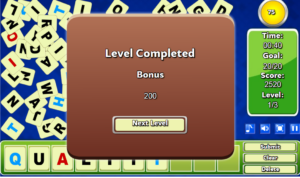 I have to confess I misread this as Scrabble, which I love, because it brings back memories of playing Scrabble with my Mum – late into the night, with a box of chocolates snaffled from our sweet shop.
So I was initially a little puzzled at what was going on with letters flying at me from all directions.
But once I read the instructions (haha – the last resort of all programmers) the game was easy and fun to play and I enjoyed it.
Purely in the interests of research (!) I went back the next day to try this one again and this time I hit the target and completed a level.
I think I could speed up and get better at this word game. It was certainly one that I found addictive and wanted to keep playing, possibly because it's a short game.
Overall Conclusions About Playing Online Mind Games
I had great fun on this Solitaire site. There's such a wide variety of free online games you'll have no need to look any further for free games where you're not blizted by adverts, so head on over.
I might even go back and try playing online solitaire as intended. I'll certainly play some of the other games again. I doubt I'll be publishing my scores, but I highly recommend the site.